Reading derStandard.at's interview with Mark Shuttleworth, of Shuttleworth Foundation and Ubuntu fame, I found myself nodding in agreement as I read his take on the One Laptop Per Child program:
At this stage obviously everyone is waiting to see how it will pan out, my own sensing is, that it's already a triumphant success in terms of shaking up the industry and getting the industry to think about both new technologies and new markets.
If it were not for Nicholas Negroponte's marketing brilliance and global hype, we would not have
educational computer competition
including a
Classmate PC
, much less a debate over
which laptop is better
or Intel
offering a Linux distro
. That mindset change in itself is a wonderful accomplishment.
Next Mark brings out the real cost issue of the "$100 laptop" tagline:
But I fear that people may judge it harshly if they don't actually produce the laptop for a 100 Dollars and unfortunately it looks like that is unlikely at this stage.
Unlikely? More like fantasy. If we look at the
Libyan MOU
, OLPC XO's are $208. OLPC News estimations say it's the
$1,000 laptop
and One Laptop Per Child wants
$30 Billion dollars per year
no matter what the per-unit computer cost.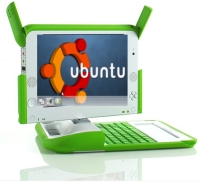 Still, Mark did make me wonder with this comment:
I expect that some of the countries that will go down that road will choose Ubuntu and if they do that, we would help them to make Ubuntu work very well on that platform.
Hmm.. now why would Ministries of Education wipe off the
Sugar UI
for the
Ubuntu Linux
distro? Maybe because Ubuntu has great educational software like
Edubuntu
while
Negroponte dismisses content
?
No matter, I'd like to see how Sugar works out first. Brazilian kids like it so far, but either Linux OS is fine as long as Children's Machine XO's do not ship with Microsoft Unlimited Potential.