Reading the "Intel vs. OLPC: A Battle of Good Wills" article today on Laptop Magazine, I noticed this paragraph about the Children's Machine XO price:
OLPC's XO laptop offers a new Linux-based software platform called Sugar, as well as special features like a built-in video camera, high-resolution dual-mode screen, longer battery life, and innovative charging options for about $175.
Does that mean that the "
$100 laptop
" is now officially
$150
$175? Could that be due to the
BTest-3 hardware upgrade
? And isn't that $175 price about $5 more than
predicted by OLPC News
?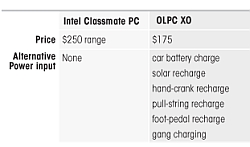 Or could Laptop Magazine be a little loose with its fact-checking. Looking at the side by side comparison between the Classmate PC and the OLPC XO, I noticed there is a slight exaggeration in the "Alternate Power Input" category.
Rather than noting that the Children's Machine X0 could be recharged by DC power, Laptop Magazine listed a whole gamut of ways, some real, some expected, and a few outright fanciful. Here, for your edification, is the list, reality-checked.
Car battery

Solar recharge

While the OLPC power supply doesn't currently recharge via DC power, it could be easily modified to do so with these very common DC power charging methods.

Hand-crank recharge

This was a marketing gimmick from the start, discarded by Fuseproject as unrealistic after much criticism.

Pull-string recharge

Foot-pedal recharge

Both of these methods rely on Potenco's pull string generator. This yo-yo charger is still in development but could be used for any battery-operated device

Gang charging

Now what exactly is "gang charging" and why would we want children doing "gang" anything for power?
And what might the powers that be think of a jump in an initial investment requirement to $175 million dollars, just for hardware? Could there be a gang charged up over the very price and feature creep that Nicholas Negroponte rails against in
his speeches
?
Or do we next see a $200 OLPC XO and Classmate PC, both running Linux, and refocus the debate from laptops to education?