Do you remember when Nicholas Negroponte revealed the string generator mock-ups at the "AMD Global Vision Conference" in September?
The images of Squid Labs' devices were tantalizing as One Laptop Per Child claims in a Technology Review article that:
Users will be able to operate the generator in a variety of ways, including holding the device (the size of two hockey pucks) in one hand and pulling the string with the other, or clamping the generator to a desk, attaching the string to one foot, and using leg power.

To reach the project's goal of one minute of power generation for every ten minutes of laptop use, the generator would need to produce 20 watts (the laptop will require less than two watts in a primary application as an electronic textbook replacement).
While we still don't know the technical specifications of the
OLPC power supply
, Squid Labs has realized its commercial potential. Say hello to
Potenco
, the Squid Labs offshoot that promises a financial windfall as it energizes the developing world. How might we know that? Take a look at the
Management Team
. Specifically:
Ray Rahman, VP of Business Development has extensive financial, operational and technical experience having worked for Lehman Brothers in the fixed income. His total product exposure has been over $100 billion. [...] He is one of the principal architects of the world's first microcredit securitization.
So while we all await a commercial
dual-mode screen
or a
Sugar UI
on our laptops, Potenco will be commercializing string power asap. And power to them too, especially if the generators can live up to Colin Bulthaup's claims at the NEXT2006 Conference as recorded by
We Make Money, Not Art
: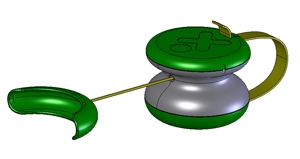 Compared to a crank, Potenco generates 5 times more power, it can be pulled 5 times longer before the user senses fatigue; it's quieter, lighter and more robust.

One minute of pulling gives 1 hour of light, 25 minutes of talk time on the phone, 230 minutes of iPod shuffle use, 45 minutes on the Nintendo DS.
And how many minutes of OLPC Children's Machine XO type-time?