Oh the Intel + OLPC drama gets better by the day! Yesterday we learned from Darren Waters that Paul Otellini felt that Nicholas Negroponte's accusations that Intel failed to live up to its agreement with OLPC were "hogwash".
When Nicholas Negroponte heard this, he posed a very valid question to why he was badmouthing Intel all over the Internets:
"Why would I throw away the six million dollars they were supposed to give us yesterday? Why would I do all of these things unless I was stark raving mad?"
Today I wonder if he is. Why? Because look what
he told Dan Nystedt
of IDG News Service
"It was very unfortunate what happened with Intel, and I hope there's a way of rebuilding it in the future because there's no interest in OLPC pushing Intel out. It just is not in our interest. Our goal is to get this to as many children as possible," said Nicholas Negroponte, chairman of OLPC, in an interview.

He called it unfortunate that Intel made statements that OLPC asked the chipmaker to stop working on the Classmate PC. "The picture that painted was one of OLPC being anti-competition, which is ridiculous. We'd like to see as many laptops out there as possible and kids have the widest choice possible," he said.
He also said something similar to
Reena Jana of BusinessWeek
yesterday. But that's not what
Negroponte told David Kirkpatrick
early this week. Then he was very clear on OLPC's grievances:
Fortune: What's the biggest single reason your partnership with Intel fell apart?

Negroponte: The biggest single reason was that they were directly selling their Classmate laptop as opposed to having it be a reference design. They're not selling it in this country because they'd be killed by their biggest customers like Dell. But in the developing world they are selling directly. It just set them apart from every single one of our other sponsors. When Intel joined us we thought we could move toward that being a reference design more and more, and less toward them selling the Classmate itself.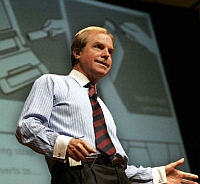 What will Negroponte say now?
Nor was that what
Negroponte told the BBC
yesterday about Intel's activities in the developing world countries OLPC was targeting:
"They were selling laptop with their brand on it directly to exactly the same people we were talking to. They would go in even after we had signed contracts and try to persuade government officials to scrap their contract and sign a contract with them instead. That's not a partnership."
But wait a minute! Maybe Negroponte isn't mad, or at least senile. Maybe he's just suffering from an addiction himself, an addiction to the drama that comes with accusing a Fortune 500 company of being an unfaithful alcoholic:
"Each time it happened [Intel] said they would correct their ways. It's a little like cheating on your spouse, or alcoholism, or something you just can't eventually fix and we had to finally part ways."
And to add to the feeling this is a
jilted lover's quarrel
, now Paul Otellini is talking like he wants shared custody of the children:
"No one company, no one solution has a monopoly on kids."
True that. So while no one is enjoying this too public spat more than I, can't you two kiss, make up, and get on with the real show?