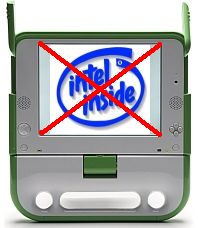 Fresh from the Wall Street Journal, One Laptop Per Child and Intel have just hit divorce court:
Intel says it no longer will support One Laptop Per Child, and has resigned from the board over the nonprofit's demand that it stop selling its Classmate laptop and other laptops in the developing world. Intel says it has canceled plans for an Intel-based OLPC laptop.
Now am I the only one who
saw that coming
since July?
Did OLPC really think it was going to stop Intel for selling Classmate PC's when it's AMD-powered device was making inroads into the developing world? And to think Intel would do so for anyone, for or non-profit, goes against every stock option it ever granted.
And did OLPC think it was going to convince Intel to stop "other laptops" (the Asus Eee PC?) from appearing? That goes against the hyper-competitive nature of the entire Silicon Valley, and even OLPC's original mission statement.
Sadly, this spat has ended hopes for a Diamondville XO Laptop, which could have born the best of both worlds: Intel focused on selling laptops, OLPC focused on changing education.
But at least now the Intel conspiracy theories will come roaring back to life in the comments section, right. about. now.