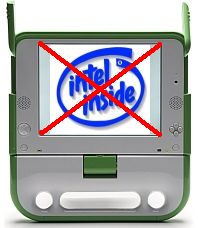 Two days before Intel CEO Paul Otellini would unveil the Classmate 2 or the Intel-powered XO at the CES, Intel announced that they are quitting the OLPC board.
Intel claims that they are quitting because of Nicholas Negroponte wanting them to stop the promotion of the Classmate/Eee to education in third world countries, but I think that the real reason is that Intel does not have a good enough processor for the OLPC project to use as an alternative to the AMD Geode LX-700.
Intel has not been able to develop a processor to match the price, power consumption and performance requirements of the OLPC project. Paul Otellini could have looked like a fool at the CES if he had to unveil an Intel powered XO that was performing worse in terms of price and power consumption compared to the AMD powered one.
Intel executives probably have seen the OLPC project more as a threat than as an opportunity to their core business from day one. Intel probably wants to do whatever they can to stop the development of cheap laptop alternatives using cheaper fanless AMD processors and even ARM based processors in the future (XO-2, XO-3…), which is a direct threat to Intel's market-dominating X86 standard.
I think that Intel did not achieve or want to achieve any of these technological and pricing advancements in an Intel-powered XO and thus in fear of being ridiculed at CES with a more expensive Intel-powered XO with shorter battery life, Intel, as a last resort, decided to quit OLPC and blame it on Nicholas Negroponte.
Intel might think it is a superior technology provider and that it can simply continue to market its Intel powered education laptop against the OLPC project. Intel probably feels too uncomfortable with the prospect of supporting the development of cheap low powered laptops by being a member of the OLPC board. I think that Intel sees those cheap XO laptops as potentially becoming huge devastating disruptors to the established expensive laptop business in the developed nations.
A commercial XO could replace all laptops in the business productivity, educational, personal and entertainment sectors of the PC and laptop business, which is the reason Mary-Lou Jepsen, OLPC's previous CTO, is working on her new business to commercialise XO technology in the coming weeks and months.
When will we hear of the first commercial cheap laptop projects using many or most of the OLPC XO open-source technologies? Quanta's ex-CEO talked about Quanta producing a commercial version of the XO many months ago.
I think that any company with an interest in introducing low margin, large volume, low cost, low power laptops, could most probably come in, approach Mary-Lou Jepsen and the OLPC for access to using the open-source hardware and software of the project for commercial projects.
And this could lead any of WalMart, Dell, Medion-Aldi, Google, AMD, Amazon and IBM to introduce commercial $200 laptops in the near future, all running optimized and free versions of Linux.
Would the Bill and Melinda Gates foundation not be criticised for working against the work of the Red Cross to bringing vaccinations and food to starving and sick populations? Why would anyone want to compete with a non-profit open-source project like OLPC? I have been asking those questions to Intel ever since I filmed an Intel representative at the WCIT in May of 2006 when they first introduced the Classmate PC.
If anyone has a better technology to decrease the price, improve the battery life, improve the e-book screen readability, improve the flash/divx video playback performance or improve the connectivity with WiMax, cellular, satellite or other technologies, then logically that entity currently simply can contribute that new technology into the open-source development for the XO-2 by simply contacting OLPC, posting on their Wiki, making press announcements and talking about their newer, better technologies to bloggers and to the media.
I think that Intel doesn't want to share it's R&D, distribution network, design ideas and proprietary technologies with a non-profit like OLPC. I think that Intel hates the open-source hardware/software/distribution revolution.
I've also published this on my blog.