No matter how you feel about Teemu Leinonen's suggestion that One Laptop Per Child should use Participatory Design in developing a XO-2, it looks like Intel Corporation is already pre-participating in the next generation of OLPC products. Just read their OLPC + Intel announcement closely: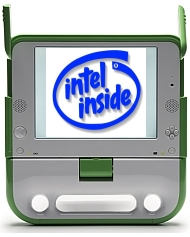 Q: How will OLPC work with Intel technology?

A: Initially, OLPC is planning to add Intel Xeon processor based servers to their product offerings, taking advantage of world class performance, reliability and energy efficiency. In addition, Intel is developing a system board design for OLPC consideration in their next generation XO device.

We are also beginning to explore more wide ranging technology and product collaboration that will bring exciting new technology innovations to children around the world.
Reading that, I say bye-bye to the current
XSX school server
motherboard, a fanless Mini-ITX from VIA Technologies. I also see the next generation XO-2 dropping the XO-1's AMD Geode LX-700 processor for Intel's 2008 Mobile Internet Device (MID) platform.
For, as I predicted, Intel sees the OLPC demographic as a sales market, not a philanthropic mission, as any big corporation should, and invested in OLPC to dominate developing world computing.
Now the real questions are: Will Intel inside OLPC be good or bad for XO functionality? For OLPC's educational aims? For children and computing in the developing world?