I want to know more
Hello my name is Will Ahdoot and I have some experience with
OLPC's XO
but no hands-on experience with
Intel's Classmate PC
. I am very skeptical of the Classmate PC for a number of reasons but primarily because of the Veil of Secrecy that Intel keeps around it.
While some people feel that OLPC miscommunicates, Intel hardly communicates at all. We know hardly anything about the Classmate PC. There is nothing on the web beyond a few brisk product reviews and Intel's own pathetic "community" website that basically reviews it hardware and software specifications.
I was quite curious to read Tina Gasperson's review of the Classmate running Mandriva Linux . Apparently it comes w/ several learning applications such as Tux Typing, Club Penguin, a web browser (Konqueror?), and . . . that's it. Yup, no Block Party, no eToys, no TamTam, no OLPC Library. Wow, Intel's commitment to content is impressive! Most amazing about the Classmate is how long its battery lasts power -- Two whole hours!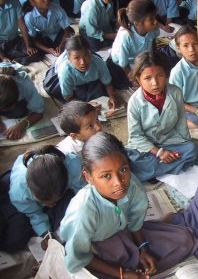 See any power outlets around here?
That blows my socks off. The battery lasts for two hours. You've got to be kidding me. Kids using the Classmate PC will need to recharge theirs computers at least twice during the course of a six hour school day.
Compare this to the XO that can last a whopping 13 hours in eBook mode and 8 full hours under continuous use. Furthermore, OLPC has uber-Linux gurus such as Andrew Morton, Jens Axboe, and Greg Kroah-Hartman working to make the XO even more power efficient.
Based on Tina's review and other reasons I have cited, I highly doubt that Intel is committed to Linux on the Classmate or even actually committed to the Classmate at all. They are likely offering Linux only because the Brazilian government requires it. Intel certainly isn't providing Mandriva with more resources to improve Linux on the Classmate: Last week Mandriva announced layoffs.
I would love to see a beneficial competition between Intel and OLPC emerge, but it doesn't look like Intel is actually trying to put out a laptop and learning content that meets the needs of kids in the developing world.
An interesting side note: Apparently Classmate comes with a hardware-based DRM Trusted Platform Module to allow kids in the developing world to uphold intellectual property rights. The needs and concerns of the Motion Picture Association of America and RIAA coincide so closely with those of kids in the developing world. How could I not have foreseen it!
Where are all the Classmate PCs?
I want to know more about the Classmate PC and the readers of OLPC News can help me. I want to know the details of the learning applications it has and will have for Windows and Linux, how much its control features will cost, and how long does its battery actually last under Windows with the WiFi on.
The XO is undergoing extensive field-testing right now but what about the Classmate? Maybe we have seen so many pictures and videos of the XO in action but so few of the Classmate laptop because possibly it totally sucks.
If you know this information please post it in a comment to this article. Please do your part to remove Intel's Veil of Secrecy. Once we do, I think we will find that Intel's World Ahead program will look more like a program to keep the developing World Behind.
My Comparison of the Classmate and XO: