Although the nonprofit project of One Laptop Per Child has a noble cause namely to help improve the education of children in poor countries, there is considerable skepticism, criticism and refusal. The majority of reasons stem from the distribution of tasks and responsibilities between OLPC and the target countries.
The countries' purchase of OLPC hardware binds substantial precious resources. For the planning and execution of the distribution and integration of the revolutionary new tool into the education system the countries are left alone. Moreover OLPC's inherent new learning method called Constructionism has not yet proven its superiority over traditional learning styles. All this and more has been discussed in detail in OLPC News.
I am Roland and I believe there is another reason repeatedly causing criticism: It is OLPC's way to communicate with the public that at least as much as everything else contributes to skepticism. It is not awkwardness that leads to this kind of communication. It rather roots in a dubious set of values. You sense very soon that to the OLPC project leader, public communication is not a tool to create clarity but a tool to steer the public's attention away from uncomfortable topics and even worse things.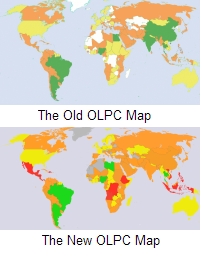 VAGUE
If you want to find out what the current or any past level of commitment of the countries interested in XO's really are you will have to resort to many different spoken statements from OLPC officials rather than its web site. And even then you only get a vague picture and much confusion.
SELECTIVE
Compared to the quite detailed reports about XO technology and the progress of hardware and software development there is disturbingly little information about the pedagogies and the implementation in the countries. Even if the countries keep their authority over pedagogies and implementation the OLPC project must have some clear scenarios how in their perspective the most promising pedagogies would have to be applied in the classroom. But there is hardly anything to find on this.
There are several past and presently running pilot projects using XO's. But apart form pictures of cheering kids there is very little information available about the experiences made not to speak of any scientific facts. It is even unclear whether the pilots are at all used by OLPC to gather educational experiences or whether it is only for field testing ruggedness the XO hardware and for publicity.
Considering the repeated claim that OLPC is an education project not a laptop project, this imbalance of available information between the educational side and the hardware side of OLPC raises suspicions.
MISLEADING
People new to OLPC who want to inform themselves about what OLPC is about will first check out the wiki and the website. Both sites create wrong assumptions in the reader not by claiming wrong capabilities of the project but by leaving out its limitations. E.g. who can OLPC help and who not? The mission statement up to earlier this year was
"Introducing the children's laptop from One Laptop per Child - a potent learning tool created expressly for the world's poorest children living in its most remote environments."
This definitely creates the impression of helping the poorest kids in the 3rd world with no schools, no teachers, no electricity. What OLPC did not say is that countries, where such educational conditions are common place, can never afford to buy OLPC hardware anyway.
Moreover, there is a big issue about this small human powered generators to drive the XO's without grid access. This again leaves the impression that XO's are going to be used by millions of kids in the poorest countries without electricity, schools and teachers which simply is not realistic. In this spring (2007) OLPC was forced to change its mission statement to a more realistic but also more vague formulation:
"Our goal: To provide children around the world with new opportunities to explore, experiment and express themselves."
Astonishingly for a "education project" the term education or learning is no longer in its mission anymore...
A second frequent misunderstanding is created by the term "self-learning" which turns up often. It creates the illusion that by the help of OLPC laptops kids would be able to autonomously acquire an education without schools or teachers. However, self-learning in Constructionism means that the learning content is no longer lectured by the teacher but it is actively studied or explored by the kids. This changes the role of the teacher from a lecturer to a guide for the kids on their own journey through the content.
But it does not mean that there is an education without schools or teachers. Of course this changes the teacher's position from a former ruler over (often unmotivated) kids to a servant for (now motivated) kids working in their own pace. Many teachers do not feel comfortable with this change either because they loose their master position and/or because they fear some kids might overtake them. Exactly this is the reason for OLPC's hidden agenda discussed later in this post under "Subversive".
CONTRADICTORY
MIT Professor Negroponte claims that the XO is not primarily intended for classroom usage but rather as a educational spare time activity. However almost all photo opportunities with XOs and kids happen to be in schools. From the mission
:"Extensively field-tested and validated among some of the poorest and most remote populations on earth, Constructionism emphasizes what Seymour Papert calls "learning learning" as the fundamental educational experience."
No OLPC publication shows neither qualitative findings nor quantitative results of such field testing or any reference to such literature. Does it exist? What were the metering methods and the results?
Another contradiction is about the collaboration with Microsoft. Professor Negroponte tells that OLPC incorporated the memory extension ports specifically for the benefit of Microsoft where as Jim Gettys and Walter Bender claim that Microsoft is treated as any other industrial partner.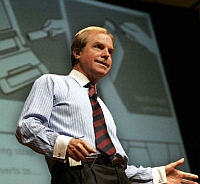 Nicholas Negroponte of OLPC
ARROGANT
Professor Negroponte about the status of field testing which can be found 5:28 minuites into his TED speech:
"This is not something you have to test; the days of pilot projects are over. When people say "well, we'd like to do 3 or 4 thousand in our country to see how it works.." Screw you! Go to the back of the line and someone else will do it, and then when you figure out that this works, then you can join as well"
If the results of those pilot test, that make Nicholas Negroponte so overly self-confident, are so overwhelmingly convincing why are they not published or linked in OLPC's web site? Is this a good way to positively influence the decision makers of target countries? Has India maybe turned OLPC down because of Prof. Negroponte's arrogant attitudes? At 16:40 minutes into the same talk Professor Negroponte deals with critique about OLPC:
"...and people really don't want to criticize this [project] because it is a humanitarian effort. It is a nonprofit effort. And to criticize it is a little bit stupid actually."
It is true that OLPC is non-profit and humanitarian. But OLPC is not going to give their laptops away for free. The poor target countries have to buy them with precious tax money. If the OLPC projects turned out as an educational failure not only this tax money would be wasted and alternative usage of it would be lost but also several generation of school kids might get an even less effective education than before.
It is not like the failure of an ordinary charitable project that in the worst case does not do any harm. If OLPC project fails it will be damaging to people and country. That puts a serious responsibility on the shoulders of the decision makers and more than justifies critical questions. But Professor Negroponte himself seems to carry this burden of responsibility rather lightly and even ridicules those who don't. By the way has Negroponte shown much "response-ability" by responding to those critical questions?
Both attitudes given above are more than disturbing. They make you suspect a dubious set of values. And what could be the reason to appear so frequently in the western media? For the project this seems unnecessary because the funding of OLPC is coming from large corporations and the target countries but not from public fund raising. OLPC neither needs public funding nor public approval in the first world.
SUBVERSIVE
OLPC officials admit trying to deceive the education systems by Trojan horse tactics: i.e. they tell countries that the XO laptops are only going to be used as electronic replacements of paper text books without any need of adapting the classroom activities or dedicated teacher training. The actual (constructionist) activities are perused in the spare time of the kids.
What they are not clearly telling is that they speculate that the spare time playing/learning of the kids is so much more interesting to the kids that the school will come under strong pressure to adopt this teaching style forcing the countries to eventually train the teachers later-on. So it is intended to win over teacher resistance from the inside namely by the kids and their parents.
In the western countries constructivism has not been successful so far because of the education system's resistance to adopt it. So OLPC attempts now to achieve a break-through of Constructionism in the third world. And if it is successful there the western countries will be put under pressure to follow that example. This is another Trojan horse inside the first one.
The question is why is OLPC trying to install constructivism using a hidden agenda? Why not by openly convincing the decision makers and the education systems? Because the constructivists were not successful in the first world? Or because their facts may not be convincing enough? Certain is that such kind of hidden agenda nurtures suspicion not trust.
Overall the OLPC's communication harms its cause more than it helps. It would be advisable for OLPC leadership to not only rethink their way of communication but their general attitude concerning openness, transparency and constructive criticism.