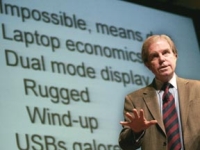 Back when Nicholas Negroponte first introduced the idea of a hand-cranked "$100 laptop", the One Laptop Per Child organization was formed to develop and promote the idea of one-to-one computing for children using low-cost, rugged laptops sold only to governments for distribution through school systems.
At the time, the idea was visionary, the price point was revolutionary, and for the first time, big technology companies felt secondary. Now fast-forward to fall 2008, and the whole global mind-think around technology has changed.
No longer is low cost computing in education a fantasy, no longer are big technology companies secondary, and everyone wants to sell technology into classrooms. Intel introduced Classmate PC to Brazil, Asustek is selling Eee PC's in the USA, and even thin-client manufactures compare themselves to OLPC.
But where are the One Laptop Per Child-arranged governmental orders? Where did Ministers buy XO-1's so that whole cohorts of children are "learning learning" on clock-stopping hot technology? Not just pretty photo ops.
If we look at Nicholas Negroponte's order commitments, there is a suggestion that his "only governments will buy laptops" purchase plan is a failure, for the only two commitments he has so far aren't even governments:
Gaddafi Foundation has committed to 250,000 or 500,000 units, or maybe none at all. Who really knows since we only have Negroponte's word on the matter.
Carlos Slim has committed to buying 250,000 laptops, but he's not giving them to governments or putting them in schools. His plan is to have them in libraries and loaned out like ebooks.
Because of the lack of OLPC-generated national buyers, Quanta has not only
lowered its production targets
, its also now considering
selling XO laptops
outside of the OLPC organization.
And so maybe its time that Nicholas Negroponte modify his original governmental sales channel and augment it with private purchases, if only to get his 10 3 1 million minimum order amount.
Or as Fernan Castillo says so eloquently in a OLPC News comment:
It's insane to see how this laptops generate so much interest, and they are still not in the market... Hey Nik: PUT THEM IN THE MARKET!

Put them in the global market and you will have a minimum of 1 million pre-orders, I'd make 2 of them right now if their price would be the $200 USD you say... one for me, one for the third world, so 2 orders.. 2 for me, 2 for the third world... and I have to say this, I'm in Colombia, not exactly the third world as many may think, but I'd be glad to help some of my childs also..
I know I'd love to
buy a OLPC laptop
for every kid on my block, even if I have to fight a
Black Friday
mob during
XO Christmas sales
to do it. Wouldn't you?
And in doing so, wouldn't we all be helping One Laptop Per Child achieve its mission to have children across the globe tap into their own potential through the power of technology?