When you read about the Brazilian implementation plan challenge: OLPC XO vs. Classmate PC, did you wonder what third platform Alan Clendenning (AP) referenced when he said:
The government plans to test the Intel laptop along side the One Laptop Per Child model and a third computer being offered by an Indian company, said Jose Aquino, a special assistant to Silva.
What was your first guess as to the
Dark Horse
candidate? Maybe
India's $10 dollar computer
vaporware? Or did you think of the
Simputer
? If the latter, you'd be close. According to
Guilherme Felitti
, in an exclusive scoop to OLPC News: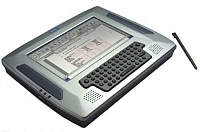 "[It] is the Mobilis, from Encore Software. Brasil will receive maybe 50 of them - I confirmed some minutes ago with a governmental source."
Well, whaddya know, the third one-to-one computing platform to be evaluated in Brazil, along side the Children's Machine XO and the Classmate PC, will be a second Linux-based system.
Linux Devices
has a quick background on the Mobilis and Encore Software has a full
spec sheet PDF
.
Read over the two and check Google, then do us all a favor, give you opinion of this three way race in the comments section below.
Who will it be: OLPC + children, or Intel + teachers, or Mobilis + ?