Sure, you could wait for the Give 1 Get 1 OLPC XO sale, wanting to grab a "$100 laptop" for $399 before it sells out quickly, but why wait? You can pre-order an Asus Eee PC now with shipping starting in early October!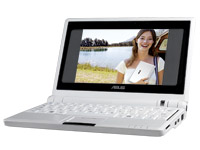 The E3 PC line starts at a mere $259.99 for a 2GB flash HD, 256MB RAM, 800x600 screen, USB ports, audio, and wireless. For $299, you also get a webcam (and a tote bag!). For a full $399, the same as the OLPC G1G1 price, you get:
EeePC 701 Specifications
Display´╝Ü7" (800 x 480)
CPU & Chipset: Intel mobile CPU & chipset
OS: Linux preloaded/Microsoft Windows XP compatible (XP drivers included)
Communication: 10/100 Mbps Ethernet; 56K modem
WLAN: WiFi 802.11b/g
Graphic: Intel UMA
Memory: 512MB DDR2 667MHz (upgradeable - 1Gb max.)
Storage: 4GB Flash (embedded)
~For additional storage use USB devices or memory stick in card slot~
Webcam: 300K pixel video camera built-in
Audio: Hi-Definition Audio CODEC;
3x USB Ports
MMC/SD card reader
Built-in stereo speakers; Audio In/Out jacks; VGA Out
Battery Life: 3hrs (4 cell) 6-cell version TBA
Dimensions: 8.86"w x 6.30" d x .79"~1.26" h
Carry bag included.
Which is not too shabby, except what are you really buying at that cost? The equivalent of last years' laptop technology, except without a hard drive or a decent screen.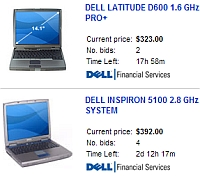 You could get a gently used laptop with all this and more for around the same cost through eBay or DellAuction.com or the like, or buy a new laptop from the usual culprits starting at $499.
With the OLPC, spec-wise, you're not getting anything that special; the AMD Geode 433Mhz, 256MB RAM, 1GB flash hard drive, webcam, mic, wireless. The full specification is at wiki.laptop.org, which you might recall from the upgrade price discussion we had here back in April. So the Eee is competitive, even beating, the OLPC on basic hardware specs for the cost.
If you're buying either of these systems for their blazing clock speeds, I have a bridge over the Tacoma Narrows I'd like to sell you. What you're getting from One Laptop Per Child is first, the warm fuzzy knowing that half of your cost is going to provide a child somewhere in the world with an OLPC just like yours.
Secondly, you're getting a laptop with a battery life measured in days, not hours (the Eee has a measly 3hr lifespan); a screen with a high-resolution black-and-white mode readable in full sunlight, a swivel-monitor/tablet mode, dust/dampness resistance, mesh networking, and a new approach to the desktop.
I welcome increased downward pressure on laptop pricing, and the creation of this niche market, but that being said, I don't yet see the Eee's place. It's low-powered like the OLPC, but without balancing that out with the awesome tech the OLPC brings to the table.
If I wanted a laptop, I'd scrounge for $100 more and get a "real" laptop. If I want an ultra-portable that can last a whole plane trip on one charge, the OLPC G1G1 program, even at $399, still seems like a fair deal, no matter if its stacked up against the $299 or $259 (webcam-less) Eee models.