Today the new Apple iPhone will make its North American debut and techno-lust has gripped the USA. Lines have formed outside Apple stores and cell-phone scalping will certainly ensue. But is all the hype really warranted? Is the iPhone all that, when compared to the OLPC XO? And how long would the lines be for a retail XO laptop?
While I enjoy my Nokia N95 and watch iPhone lines in wonder, Maison Bisson has developed a comparison of the iPhone to several techno-marvels, including the OLPC XO. Before you read the chart, remember that none of these devices are general purpose computers, they are very targeted computing applications, what Maison Bisson calls "information age devices" which allow for networking without the need for a conventional, bulky laptop.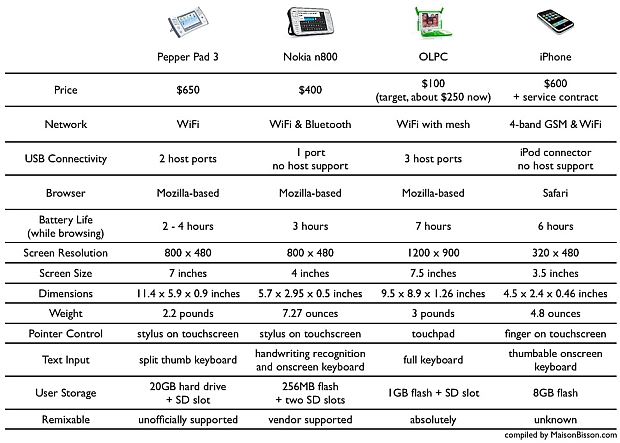 Of the four, the iPhone is the smallest and lightest device, and has significant battery life. Yet, it does not match the OLPC's power supply and while the iPhone has a cool touch screen, the XO's dual-mode screen still rocks out in sunlight. The OLPC also has a full-size (for kids) keyboard.
The one significant difference between all these computing platforms and the OLPC XO is the almost rabid desire for the end users to modify the operating system and service the hardware.
Another difference is that only the OLPC is not available to retail customers, no matter who said what to the BBC. Only governments, and maybe rich donors, can buy OLPC's and only then in blocks of 250,000.
But not to worry, even with its differences, the Children's Machine XO will not dilute the iPhone hype today. Not even Fake Steve Jobs can do that.