Are you excited by the clock-stopping hot OLPC XO technology like dual mode screens or instant suspend/resume? Do you want to be one of the lucky Children's Machine XO BTest-2 owners?
Since there are no OLPC eBay sales just quite yet, you only have four ways to play for your very own "$100 laptop":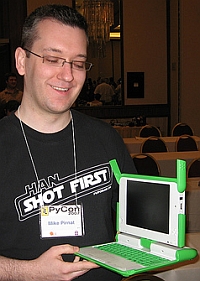 How did Mike Pirnat get one?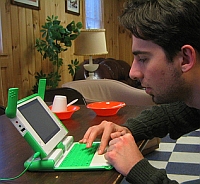 Btest-2'ing with bad OLPC posture
Of course, if you don't want to deal with buggy software and incomplete hardware, you need not wait long. Nicholas Negroponte just promised that we'll be seeing Children Machine XO's in everyone's future very soon, from Africa to Adelaide, according to
The Australian
:
OLPC founder Nicholas Negroponte told The Australian the not-for-profit project, to provide every child in a developing country with a laptop, would be extended to nations with a high gross domestic product from as early as July.

"The program will go out worldwide within 60 days," Professor Negroponte said in Abu Dhabi, in the United Arab Emirates, attending the Education Without Borders conference.

"We'll be looking for expressions of interest (from Australian governments, business or non-government organisations) and that is a means for countries to request to be part of the program."
Sixty days from now means we'll all have one hell of a geeked-out May Day watching OLPC XO's roll out worldwide!