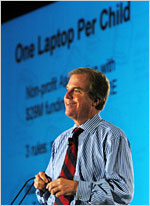 Buried at the end of the "A Crusade to Connect Children," BusinessWeek article are telling quotes by Nicholas Negroponte on the status of One Laptop Per Child computer orders. First off, he explains why India just said no with this interesting passage from the article:
[T]he Indian setback is the result of "an orchestrated campaign by small interests" in some parts of the country. "We are not sure of why this occurred." [says Negroponte]

He does have some theories, though, for the overall opposition that OLPC is encountering. "Considerable disinformation is coming from communities that do not want to see Linux on the desktop. There are also laptop interests that see us as competition," [Negroponte] points out.
So while he sees a dark conspiracy against his ray of light project, Nicholas Negroponte still has guarded hope for India's participation:
India is still a target in the medium term, but for now he's looking to countries like Brazil, Argentina, Nigeria, and Thailand, where officials have been more encouraging. "We have moved on," he writes. "We hope India will participate in 2008.
Adding to my perception that
OLPC is all about sales and marketing
, Nicholas Negroponte, ever the marketing genius, puts a positive spin on the recent order claim confusion:
And what of a report from ZDNet suggesting that the group's claims for those four countries are exaggerated? Negroponte says the critics are wrong. Argentina has signed a memorandum of understanding with OLPC, he says. Brazil has put money for OLPC machines into its budget for next year.

And leaders in Thailand and Nigeria are committed to the project, he adds. "Those four, Brazil, Nigeria, Thailand, and Argentina, feel pretty real to me, blogosphere or not," he writes.
Wait, isn't the blogsphere exactly what Mr. Negroponte is promising to expand by the millions with online all the time students? Should he then give some credit to those of us trying to offer constructive criticism about a project we back in principal but worry about in execution? Or at least shouldn't he believe his own organization's
leadership
and
spokespeople
? To quote the OLPC spokesperson:
"We have not signed any agreements for orders, but we are in communication with the countries mentioned. OLPC has asked that all interested parties wait to see a working machine before placing their orders."
Okay, now we're clear then; Negroponte says its a go in four countries, his own organizations says no, and the blogsphere is just a distraction.
KEYWORDS:
OLPC | Linux | Nicholas Negroponte | Brazil | Thailand | Nigeria | Argentina | India