Buried under the XO-3 vaporware hype was more information on the very real XO-1.5 hardware that is a gift to Microsoft. Just read this paragraph from the One Laptop Per Child press release with my emphasis added: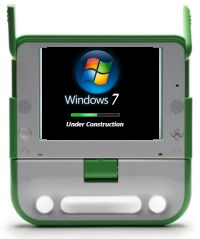 The XO 1.5 is the same industrial design as the XO 1.0. Based on a VIA processor (replacing AMD), it will provide 2x the speed, 4x DRAM memory and 4x FLASH memory. It will run both the Linux and Windows operating systems. XO 1.5 will be available in January 2010 at about $200 per unit. The actual price floats in accordance with spot markets, particularly for those of DRAM and FLASH.
As I predicted, the VIA C7-M processor means Windows 7 on the XO-1.5 and an end to the Open Source roots of OLPC. Yes, I know there's an argument that truly Open Source means open to any operating system, but I reject that Utopian hope. I continue to say that Windows - in any flavor - is an OLPC marketing flaw:
The XO is a specialized learning tool specifically designed to empower education for primary school children in rural and remote communities - 4-12 year olds in need of an educational experience suited for their developmental level. As such it should be compared to other learning tools; chalkboards, libraries, and textbooks - then the comparisons are much more interesting and compelling.

Once you look at the XO in the educational context, the question of "Does it run Windows?" becomes irrelevant. Or think of it another way - when was the last time you wondered if the Leapfrog came with Windows?
So with this new twist in OLPCs dance with Microsoft, I hear the Linux music fading, see few real learning learning chairs to sit in, and the "education project" game ending. That dual Gnome - Sugar boot becoming just as fanciful as an XO-3 in the wild.