In his argument for the need to have Windows XP on the XO laptop, Nicholas Negroponte puts forth a compelling reason for the change to a proprietary operating system from the current Open Source platform in his technology Review interview:
"When I went to Egypt for the first time, I met separately with the minister of communications, minister of education, minister of science and technology, and the prime minister, and each one of them, within the first three sentences, said, 'Can you run Windows?'" Negroponte says.

One future possibility is a "dual-boot" version of the OLPC machine, in which either Windows or Linux can be launched at start-up. If such a scheme were to materialize, Negroponte says, "I expect we will do a massive rollout in Egypt."
I believe that Negroponte's obsession with Microsoft Windows is a yet another strategic error - separate from any Open Source vs. proprietary discussion.
The "Does it run Windows?" question shows that OLPC's marketing is flawed in a very basic way. By focusing on a $100 price and on the term "laptop", Negroponte has Ministries of Education thinking of the XO as a cheap business laptop - a $100 Dell or Toshiba. In this comparison, the XO will always fail.
The XO is a specialized learning tool specifically designed to empower education for primary school children in rural and remote communities - 4-12 year olds in need of an educational experience suited for their developmental level. As such it should be compared to other learning tools; chalkboards, libraries, and textbooks - then the comparisons are much more interesting and compelling.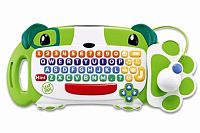 Once you look at the XO in the educational context, the question of "Does it run Windows?" becomes irrelevant. Or think of it another way - when was the last time you wondered if the Leapfrog came with Windows?
As long as Negroponte continues to allow the XO to be called a "laptop" instead of something like "Children's Machine", Ministers will continue to use variants of the "Does it run Windows?" question as a way to ask for a $100 MacBook per child.
Once they have Windows, the Ministers will complain that the XO is slow, or doesn't run Microsoft Office. And when did you ever think that an appropriate software for young children?
Yet, if the XO was again called the Children's Machine, or better yet "the best educational tool for primary school children in the developing world", which isn't as catchy as "$100 laptop" but mush more accurate, I'm willing to bet a Linux kernel that Egypt would look at OLPC quite differently.
Add in teacher training, local support and maintenance, and all the other aspects of implementation that OLPC refused to support in the past, offered in a partnership with the Ministry through a well-staffed implementation team, and there would be a much different reception.
For a great example of this idea in action, just look at OLE Nepal. Not a peep about Windows XP on those XO's.