With the XO-1.5 hardware announcement, where OLPC is switching from the AMD Geode to the VIA C7-M, we have an interesting possibility with Microsoft. We could see Windows 7, instead of Windows XP on the XO.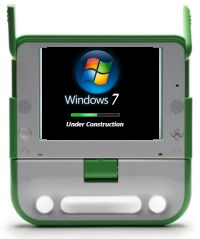 First, the VIA C7-M processor was HP's original choice for its HP 2133 Mini-Note PC, which came with Windows XP. So we know the VIA will support Microsoft's current operating system choice for the XO. But thanks to the ingenuity of others, we have reviews of Windows 7 on the HP 2133 and the overall opinion from Liliputing is:
The computer boots up a bit faster with Windows 7 than Vista, but slower than with Windows XP. The system is reportedly more responsive under Windows 7 than Vista.
Yes, kids, the C7-M means the XO 1.5 could also theoretically support Vista, but I really doubt anyone wants to actualize that vision. What I do want to see is video playback with a XO-1.5 using the VIA VX855 Media System Processor. VIA says that it:
Offers full hardware acceleration of the widest variety of leading video standards including H.264, MPEG-2/4, DivX and WMV9, allowing smooth playback of high bit-rate 1080p HD video.
Smooth HD video sounds hot! Like the XO as the movie screen for the developing world if its performance anything like the Chrome 7 powered 2133, which supported DVD riping and even Hulu video in full screen mode.
---
Stay on top of the XO-1.5 laptop: subscribe to OLPC News via RSS Feed, Emails or Twitter.
---