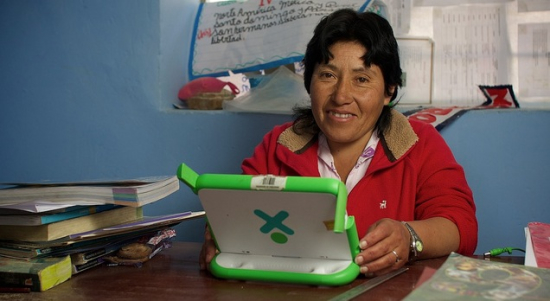 OLPC just announced a follow on to the successful OLPCorps program that created long-term impact in several dozen communities around the world: OLPC Teacher Corps.
This summer, OLPC will bring together the best teachers from the ~40 countries with OLPC implementations to share ideas, collaborate on projects, and learn how to advocate for stronger and better teacher union representation in OLPC programs. An OLPC spokesperson was quoted as saying:
"After carefully studying the IDB review of OLPC Peru and implementation evaluations from other countries, we realized that we have not paid enough attention to the crucial role that teachers play in implementations and the overall success of OLPC. With OLPC Teacher Corps(tm) we can now directly support the best teachers from our projects from around the world. We will bring them together to collaboratively learn learning and teach teaching with the XO laptops and Sugar. At the end of the program, we will drop them out of helicopters equipped with XO-1.75 laptops to create spontaneous learning learning across Africa."
To apply for the OLPC Teacher Corps program, teachers will need to show they've completed advanced in-service training and achieved a mimic or better on the formal "Chalk and Talk" testing scale of teacher professional development. Fluent reading of Microsoft Power Point slides will also be considered in lieu of formal test results.
More information about the OLPC Teacher Corps program is available on this wiki page and we will definitely keep a close eye on it over the coming months.