This weekend, Jim Gettys announced the next stable build of the Children's Machine XO laptop from OLPC: Build: 368 + Q2B85 Firmware.
What cool achievements might this combo bring to the One Laptop Per Child rush to complete the "$100 laptop" by the August ship date? How about all this developer eye candy from Jim's announcement:
Working mesh network! UI to select the Mesh network!
Battery charging is working well at last!
An greatly improved web browser
Gnash (free Flash player; still somewhat unstable) pre-installed; Flash 9 also works, but not packaged or installed.
touch pad driver fix for jumping cursor: the touch pad should be much more usable, and the tablet usable on B2 systems.
boot time has substantially improved due to a scheduler fix.
battery indicator in Sugar
availability of Helix Media Player
instructions for customizing your own image
30% system performance improvement when any network device is in use.
To get all these advances going on your
BTest-3 XO
, be sure to
update both firmware and NAND image
.
Of all the changes, there are two that I find very compelling. First is a functional mesh network. This is a revolutionary promise of the OLPC X0 that I find under appreciated. Here is the opportunity for computer users to share information directly, without the need of an Internet connection or overly-complicated direct connections.
Gone will be the days of having to email data to a friend sitting across from you, or spending an hour and several reboots to make a infrared, Bluetooth, or ad hoc network. Soon, you, I, students worldwide will open up their laptops and the mesh network will "just work" in Build 368/Q2B85 according to Walter Bender:
this week was the first time that we have really been able to get a sense of how the mesh will work as an end-user experience, and it has to be said: it is really good. Boot a system for the first time, and if the machine sees a mesh, "poof," you're on the network. Really quite remarkable.
And they'll be remarkable over
much greater distances
than today's weak WiFi. I can't wait to see the future
social side of mesh
.
Before then, OLPC XO's will be measuring battery life in days, not hours, with the new LiFePO4 battery. But before even that happens, there are still dead or dying batteries in the field with Btest-2 and BTest-1 machines.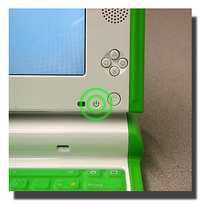 With the Q2B85 firmware upgrade, most of the dead B2 batteries can be revived and even some B1 batteries. Both were being killed off by under and overcharging of the batteries due to bugs in the battery embedded-controller code.
While this isn't a revolutionary mesh network, I'm very glad to see OLPC thinking about existing laptop maintenance so early in the game. If they're bringing back test units from the dead, from afar, maybe, just maybe they prove Merrill Lynch wrong and can go without a spare parts distribution plan.