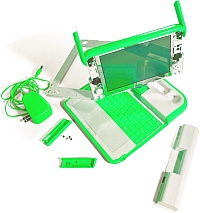 While we proletariat debate the
OLPC XO production model
, the mighty moneyed bourgeoisie have their own opinions on Children's Machine XO
Taiwanese computer manufacturer impact
.
Bloomberg Asia reports a vibrant run-up in OLPC component maker's stock prices since One Laptop Per Child was announced:
Shares of ENE and Shin Zu Shing have almost doubled since then and are among the top 100 gainers of the 1,160 stocks traded on Taiwan's two main exchanges. Simplo has climbed 79 percent and Sunrex Technology Corp., a keyboard maker for the computers, has added 33 percent in the period.

"The program will bring lucrative opportunities for Taiwanese laptop computer component makers and its large scale means high growth potential for these suppliers," said Angela Hsiang, an analyst at KGI Securities Co. in Taipei.
Merrill Lynch even went so far as to issue an
OLPC investment strategy
. And what's their opinion on "
$100 laptop
" investment?
from a long-term perspective, market expectations for OLPC seem too high, in our view. Some local research institutions like TRI predict that the sub-US$200 [notebook] market will pick up to 68mn units in 2010 from 7mn in 2007, implying a 113% CAGR. We expect the market to start realizing the difficulty to ramp up the OLPC project and cut shipment forecasts in 2H07.
Now why would research analysts have such a dim view of One Laptop Per Child's future? Could it be the radically different business model and supply-chain that dramatically lowers costs, and therefore revenues and profits? Their break down of the OLPC bill of materials sure shows the razor-thin margins involved:
In the report, the analysts bring up the usual concerns,
field testing
,
content
, and
OLPC alternatives
. Then they hint at what might be the program's largest un-explored quandary:
Children's Machine XO maintenance
.
Even assuming there is enough educational resource and children in emerging markets tolerate poor specs, after-sales service is another challenge. As mentioned earlier, the OLPC project eliminates the roles of OEM brands and distributors, so it will be difficult to find someone to provide after-sales service.

PC is not as user-friendly as traditional consumer products, and it is easy to have software and/or hardware problems. We do not think customers will be able to send back their OLPC to Quanta when they have a problem. Thus, in the near term, emerging markets will find it a challenge to build relevant infrastructure to solve the situation.
Now that's an understatement. Without
local assembly
,
Open Source hardware
, or a
spare parts distribution plan
, local maintenance will be a serious problem, no matter how many children Nicholas Negroponte thinks will be come spontaneous computer maintenance technicians.