Does your wireless Internet connection "just work"? Do you seamlessly connect to any unsecured WiFi signal without your intervention? And does that happen on any network, not just one your programmed to be instantaneous?
I didn't think so. But this is the dream of One Laptop Per Child. As Gregory M. Lamb says in his A closer look at what '$100 laptop' will be article: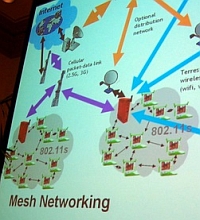 OLPC mesh networking
Built-in Wi-Fi antennas that automatically create a "mesh network" with any other XO computer within about one-third of a mile. A screen displays icons showing the other XO computers within range at any given time.

The mesh also means that if any one of the linked computers has access to the Internet, all of them will. That's important in places where Internet connections can be few and far between.
As yet, though, that goal is still, just that, a goal. OLPC XO Btest-1 units do get
one kilometer WiFi connectivity
, an impressive feat in itself. But OLPC mesh networking will need more than great range, it will also need amazingly reliable and simple connectivity. As Jim Gettys explains in
priorities for the BTest-3 units
:
The basic networking needs to "just work" to a degree that has never been seen before, despite the great strides Linux has made in this area over the last couple years.

The laptop's networking must transparently support the mesh network (now that the firmware is up to it), and IPv6 with tunneling when needed so that we can provide "end to end" connectivity to the kids when their network access is not via the mesh, but via some IPv4 access.

We're just beginning to understand the network environments in which we'll have to operate, but the basics need to "just work".
Under the "Laptop" tab is a very cool mesh networking demo in non-FOSS Flash. You can make your own mesh networks with OLPC's and an earth. Even cooler, you can move around the laptops, and even the earth, to build or break Internet links.
Here's to OLPC achieving a mesh network that "just works" as well as the mesh demonstration. I too dream of making or breaking networks with the flip of ears instead of the torturous hunt and hope methods available today.