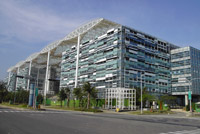 Quanta Computer's Headquarters
Last week, Quanta Computers announced that 2B1 hardware would be assembled in Changshu, China, a production base that normally manufactures non-computer products. Today, Digitimes is reporting that Quanta Computers aim to ship 10 million units in the first 12 months:

Quanta Computer president Michael Wang stated that the company has set a 12-month shipment goal of 10 million notebooks for the US$100 laptop project, initiated by the One Laptop per Child (OLPC) research initiative, starting from when actual shipments kick off at the end of the first quarter, 2007. The shipments will expand considerably at the end of next year, according to Wang.
So far, the stories about who has ordered what from OLPC have been the subject of much speculation. We know that Thailand and Nigeria will be receiving "visual models and developer board demos" later this year and that Brazil and Argentina are strongly interested in the project too.
Given Quanta's order expectation, this means that either these four countries are about to spend more than $1.4 billion on the worlds largest beta test, or a few more countries will be gambling with their education budgets for 2008.