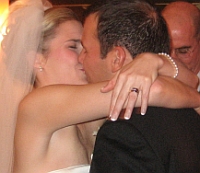 SlashDot wanted to ruin this?!
SlashDot is jealous of me! SlashDot hates OLPC News because I, not they, lead in One Laptop Per Child information and influence. And so CmdrTaco dredged up a stale conspiracy theory from January 2006 and gave it a big twist on my wedding night, just to screw me when I wasn't looking. It was a personal attack!
Crazy talk, eh? A fanciful conspiracy theory with just a touch enough logic to sound legit. But total crap when you give it a good think. Well so are the OLPC News conspiracy theories.
Back January 2006, those jealous of OLPC News' growing influence got the wild idea that there is no way it could just be a loose association of writers and commenters myopically focused on the One Laptop Per Child program. That it was impossible for a simple blog to jump into the forefront of the international debate all by itself.
There had to be a puppet master!
So they went looking for a good conspiracy theory to soothe their egos, and like all good theories, there seemed to be just enough facts to make their fantasies reality.
Then, I was Director of Geekcorps, a NGO focused on bringing technology to the developing world. In fall 2005 Intel had convened a NGO Advisory Board - a grandiose name for a one day workshop with a dozen NGO technology leaders on Intel's product roadmap for the developing world.
No help from Intel here
Ah Ha! An Intel Link!
With that smoking gun, the conspiracy theories started, but they were so misinformed, I took them as a compliment. Why?
Because of what we told Intel in their one and only Advisory Board meeting. And kept telling them till they stopped calling and forgot the idea of a NGO Advisory Board:
The Intel Community PC was a dog.
The Classmate PC only a cheapened laptop.
Neither was a quality product anyone would buy.
Intel needed a low-power, high-durability laptop.
In essence, we told them Intel needed the clocking-stopping hot XO laptop from OLPC. And every time I've talked to Intel staffers since - at public meetings, not smoky back rooms - I've told them the same thing again:
$5 Billion in Intel R&D and we get the Classmate PC?
Which is why I find the whole Intel conspiracy theory so outlandish it has to be a compliment. I've never personally got a dime from Intel. Or Microsoft. Or any other technology vendor. Not even a Classmate PC demo unit! To top it off, I don't work for Geekcorps anymore.
And yet conspiracy theorists are so amazed at OLPC News' success, they have come to the conclusion yet again that OLPC News cannot be the humble work of just yours truly.
I have to admit it. They are right.
OLPC News is your independent source for news, information, commentary, and discussion of One Laptop Per Child because of its impressive readership. Because of people like you, reading this sentence right now.
It's the 5,000+ daily readers of OLPC News, the dozen+ writers, and too many Guest Posters to count that drive this site. They are the ones I answer to every day. They are my boss, my drive, and if they ever actually clicked on a Google ads, my beer money funders.
So for CmdrTaco to insinuate that OLPC News is a front for anyone but them, insults you, dear reader, and every OLPC News contributor, commenter, and supporter personally. To do so with out of date and inaccurate information offends SlashDot itself.
And to do so on my wedding day? Worthy of a conspiracy theory all its own.