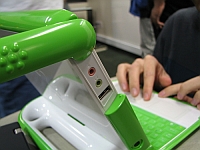 Is this you, writing for OLPC News?
My name is Roland from Switzerland and I am in no way connected to OLPC, OLPC News nor to the IT industry or education. I am simply privately interested in OLPC and its surrounding topics. And I occasionally post articles and comments in OLPC News. You may ask why do I post on OLPCNews.com and not in wiki.laptop.org?
Well, first I did post in wiki.laptop.org but was dissatisfied with the uncritical and shallow attitudes of OLPC's disciples. It lacked independent thinking and most of all I was put off by sensing that discussing not only the bright side of OLPC but also its limitations and drawbacks were perceived as politically incorrect.
My critical but still moderate statements were dismissed and played down and pretty soon "edited for space saving" or in other words soft-washed. If somebody undertakes such a big endeavor as OLPC does they should be aware of and open about its limitations.
So since then I contribute to OLPC News because I feel that most of the peer contributors share a similar set of values even if they often do not share the same opinion. What are those shared values? You recognize your real friends by two behaviours:
They always tell you the truth even when it is unpleasant because it helps you to improve.
Real friends stand by you and help you not only in good times but also when you are in trouble and all other superficial friends don't want to know you anymore.
Exactly that is what I sense behind most posts here at OLPC News. Despite sometimes biting criticism most posters and commenters hope very much for OLPC to become a success. But they feel or know that some actions of OLPC lead in the direction of failure.
Instead of remaining silent and wait for the out-come the contributors of OLPC News want to draw the attention of the OLPC leadership, their supporters and the decision makers to OLPC's weaknesses and risks in order that they avoid failure.
On the other hand should OLPC really face serious failure - which we don't hope - and the public opinion turns against it I am convinced that the same contributors of OLPC News will defend OLPC because they not only see its mistakes but also its huge merit and promise for the future.
But as long as One Laptop Per Child claims a thousand times it has no serious unsolved problems without proving it or trying to recognize and solve them the contributors of OLPC News will continue a thousand and one time to pinpoint those unsolved risks. Yes, that can be painful. And yes, OLPC News might be perceived to be against OLPC although it really only opposes the weaknesses and mistakes of OLPC hoping that they might be corrected.
I am absolutely convinced that constructive thoughtful criticism serves OLPC better than thoughtless jubilation of OLPC's every move regardless of the sense it makes. Please comment about your perception of what OLPC News is to you or what it should become.
Of course you can directly help OLPC News become what you want by submitting your own posts.