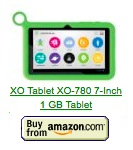 XO Tablets for Sale
Buy Your XO Tablet on Amazon.com
OLPC is selling the new XO Tablets on Amazon.com for just $149. Buy yours today!
Discussions
I'm on p65 now and still appreciating your thesis. It's so refreshingly holistic and therefore h …

Hello Lars. I'm on page 57 now - and still much appreciating your thesis.

There is so m …

Dear Pamela, thank you so much for your kind words, I hope that the thesis did not become a majo …

I'm on P23 of your dissertation and want to let you know how much I'm appreciating it

Th …

hey mavrothal, you got me there, I have no method of evaluating the relative importance, or faul …

... and love and care :-)

Wow, what a telling story, thank you for that... Also from working with IT in Denmark I know the …

Hey steve, this is a valuable suggestion, that those who ends up experimenting with laptops (etc …

You Actor-Network Theory approach on OLPC deployments is basically what African folk wisdom (pop …

As a volunteer in Uganda, I suffer from the results of the disparate versions of XO deployments. …

Thank you. Interesting but self conscious - related to a dissertation after all. I recall liste …

Can the XO laptops and tablet PCs be simple and loaded with traditional primary school lessons o …

Hasn't it occurred to you that this is the 21st Century?

The brick-and-mortar school hou …

Thank you for the useful insight to OLPC's progress, and struggles with the equipment.

1 …

You can't edit them but if you want I can log in and remove the two words...