While going through my morning routine of checking Google News Alerts for "olpc" and "one laptop per child" I found a very interesting article in The Miami Herald called "Venezuela hands out thousands of free laptops". The focus of the article is the country's Canaima initiative which is said to have distributed 750,000 of the Classmate PC based netbooks to date and hopes to reach 3 million units by 2012.
That's certainly an interesting story in itself which will look at in a separate article but what really caught my eye were two comments made by OLPC Association's CFO Robert Hacker: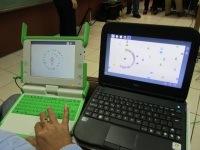 XO and Classmate PC side-by-side
While the organization is not involved in the Canaima project, there has been some informal communication with the Venezuelan government, Hacker said. OLPC also provides consulting services to countries even when they are not using XO laptops.
I have been hearing rumours about OLPC Association providing support for Latin American projects using Classmate PCs for quite some time and it's good to finally see a confirmation of these efforts. I always thought such a move towards being hardware agnostic made sense as long as OLPC's famous 5 principles continue to be adhered to.
The second interesting bit of information can be found in the next paragraph:
"One of the most significant realizations that we've made is that the key to a good one-to-one deployment is teacher training," Hacker said. Without supervision and constant updates, the laptop programs can sometimes go adrift. (emphasis mine)
Wow, I honestly thought I'd never see the day where OLPC would publicly acknowledge the importance of teacher training. Especially after some of the comments Nicholas Negroponte made in the past 12 months about being able to give a child a laptop and walking away and dropping XOs from helicopters.
Overall it definitely sounds like OLPC Association is making strategic steps into the right direction and it will be interesting to see how they pan out over the coming months.