I assume like many of you I also signed up on the Give 1, Get 1 website when I first heard about One Laptop Per Child's XO sales event. Last Thursday I received a first message with the title "Give One Get One starts soon" from OLPC that contained some details about when G1G1 would start.
I was a bit surprised when I also read the following paragraph (emphasis mine):
"Give One Get One" is the only time we are making the revolutionary XO laptop available to the public.
Now honestly, can anyone give me a good reason why OLPC would want to restrict the public's access to the clock-stopping hot OLPC X0 to this once in a lifetime chance? Because I honestly can't think of one...
Plus it's not like nobody outside the United States and Canada (the only ship-to addresses for X0 via G1G1) is interested in purchasing those green machines. How can a project like OLPC - that's per definition a global one - limit such as once in a lifetime chance to North America? Doesn't seem to make sense to me, even if OLPC News has a workaround for international geeks!
But now, after reading yesterday's e-mail update from G1G1 I'm not even sure too many people in North America will be able to have an X0 sitting under their Christmas tree. Or how do you interpret the following sentence with my emphasis added:
"This is the only time we're making the XO laptop available to the public and quantities are limited, so early purchasers have a better chance of receiving their XO laptops by the holidays.
Is it only me or does that really sound as though they're not sure whether they'll be able to ship a significant quantity of G1G1 laptops before Christmas? Think about this for a second: According to various news-sources (such as
ZDnet
):
"Quanta is currently producing 15,000 [XO laptops that is] per month but those numbers will rise"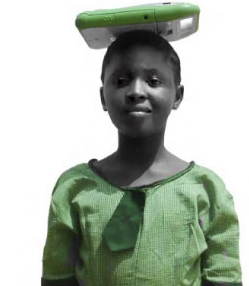 15,000 units per month? Even assuming that number rises to 60,000 units by the end of November (though I'm not sure whether that's feasible) it will take more than 2 months to even fulfill the current orders for 100,000 units for
OLPC Uruguay
and 40,000 units for
OLPC Peru
.
So when exactly are the G1G1 orders going to be produced? Early 2008? Because I certainly do hope that X0s produced for countries that are going to start implementing the X0s soon have a higher priority than the one's that Santa is supposed to bring - children first, then geeks. All in all I'd say that the way OLPC is communicating about G1G1 is less than stellar.
I'm honestly afraid that there will be a public outcry in both the blogosphere and traditional media outlets if not all (or at least a majority of) G1G1 orders arrives in time for Christmas. But on the other hand I would consider it outright stupid to sell X0s in the USA and Canada when the demand from Uruguay and Peru can't be met!
Related OLPC + G1G1 Links