Hot on the heels of yet another XO laptop eBay sale, Rebecca Carpenter sent me this interesting use of the One Laptop Per Child G1G1 XO sales program: a contest where an XO is the prize.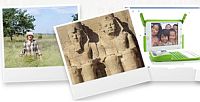 Her company, Razoo has just launched a Good Travels contest to encourage people to do good while they travel. As part of the contest, they're giving away ten XO laptops - five to contest winners, and five to children in developing nations, and she says:
The XO Laptop is an important component of the Good Travels contest for several reasons. First, it reflects the kind of fun and innovative solution that Razoo loves to support. Second, the laptop itself is great for travelers -- so if you're going off the beaten path, this makes a great traveling companion. And third, the OLPC campaign shares a similar mission with Razoo -- to encourage and support people doing good around the world.
Now I am conflicted about this. On one hand, it raises the profile and use of the XO, but on the other, is this really going to increase educational opportunities for children in the developing world?
And on a very basic level, will the winners of the contest really enjoy their XO laptop experience? While I can see a few geeks enjoying the XO-1, I don't see it taking over the backpacker trial anytime soon. Rebecca take:
Who said you can't be altruistic and a little bit selfish at the same time? That's the premise behind the Give One Get One campaign, right? So don't feel bad about it -- embrace it!
What do you think? Should support such Give One, Win One actions?