Oh my god! Kim Jong Il has just announced that he's buying XO-1.5 laptops for every child in North Korea from OLPC.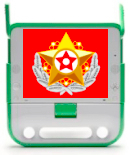 Apparently the Dear Leader was impressed by Nicholas Negroponte when they met at Davos World Forum. Negroponte showed Kim Jong Il how to play "I'm So Lonely" on Tam Tam and they karaoked until Kim Jong Il agreed to go One Laptop Per North Korean Child with the new XO hardware. Negroponte was quoted as saying:
"I started OLPC to create educational opportunities for the world's poorest children. And I cannot think of children more in need of an XO - these children of North Korea. Now they are going to learn learning, they will be empowered by ICT!"
There's no word on just how many XO's that North Korea will buy, in fact some experts are speculating that North Korea will intentionality overbuy XO's just to confuse those who might use the number to estimate its population.
And there is even less information on how North Korea will pay for the XO's. However, Negroponte seems optimistic, saying that his brother has assured him that North Korea can pay in cash or depleted uranium. Either way, congrats to OLPC!
This sale to North Korea is an amazing boost for OLPC's fading prominence and Negroponte is rightly proud. He says:
"Thanks to the Dear Lear's foresight and benevolence, we're able to invest in the XO-4 - a revolutionary laptop design made from extruded dihydrogen monoxide"
.