While we wait with baited bated breath for the official OLPC Implementation Plan, we had an interesting glimpse of Nicholas Negroponte's vision of the plan at the Reunión Hemisférica de la Red de Educación, a policy dialogue between the Inter-American Development Bank and its borrowers.
There, the Ministers discussed "The implications of 1-to-1 computing models in Latin America and the Caribbean - One Laptop Per Child (OLPC)" with leading technology in education experts and the OLPC leadership.
One of those experts was Andrew Zucker, co-Director of the Ubiquitous Computing Evaluation Consortium, who shared his view of many laptops in education implementation plans.
Essentially he maintains that while there is much hype and hope, there isn't any empirical proof that one to one laptop programs in education actually bring up test scores or create economic competitiveness. That educators would do well to start with a pilot program and test their laptops in education approach against defined metrics before rolling it out to a larger group.
That most one to one computer programs for education use a formula something like this OLPC News re-creation and re-interpretation of Andrew Zucker's original slide,:

How might Nicholas Negroponte react to this charge that he is selling a miracle, not real dynamic change, and his One Laptop Per Child program should do a test pilot? Dr. Negroponte was offended, but not in the way you might think.
First he warned the Central and South American countries not to listen to North American educators, that the North American educators did not have the same problems as the developing world and were clueless to the poorer country needs.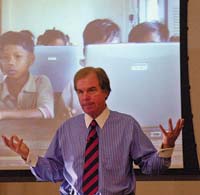 Then he got personal with Dr. Zucker's presentation:
"I will overlook Andrew Zucker's somewhat insulting remark[...]that computers added to children equal magic. [...]

But the rest of your presentation was actually very inappropriate for this group [by focusing on the need for objective metrics.] Because in fact they do need some magic. They do need some miracles.

And they do need to do things which isn't futzing around and moving deck chairs. And they can spend the next five years planning. But that's not what they should do.

They have to take action. They have to take big action. To do a pilot project is ridiculous!"
Now what might the Ministers think of such a complete disregard of empirics in favor of emotions? Judgments by the heart instead of the mind? While the ensuing debate was emotional and intense, the Argentina State Education Website
says it the best
via a
Google translation
:
Given to the differences of opinions and interpretations, and before certain ideological cuestionamiento that Negroponte did of the previous presentations, the panorama was opened for a deep and interesting discussion motivated specially by the interventions of the ministers, vice-ministers and representatives of the different countries that attended the meeting.
No matter the polite interpretation, the results of the meeting are clear in the resulting
IADB and OLPC agreement
. There, Negroponte lost his battle to eliminate a focus on objective testing metrics, as the agreement synopsis clearly states a requirement of:
(c) design and support for evaluation activities, in order to insure rigorous follow up and lessons learned from initiatives in this field;
Now is that moving deck chairs and endless planning? Or is it careful consideration of the national priorities of less developed countries with
small national budgets
, and even
smaller educational budgets
, to ensure they are maximizing education with their meager resources?
Countries that, like everyone else, are impressed by the laptop but wary of the massive $30 Billion annual price tag.