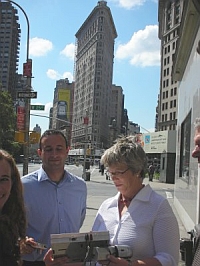 Photo by Christopher Blizzard
Watch out New York City: The One Laptop Per Child prototype screen is loose on the streets!
Last seen by Christopher Blizzard at 23rd and Broadway, in the shadow of the Flatiron Building its test box hardened stainless steel shell glistened in the sunlight while the amazing dual mode display shone through the mid-day glare.
Here in the hands of Mary Lou Jepsen, the 2B1 Children's Machine prototype rocked on with its bad self, emitting crisp and clear greyscale at 200dpi in broad daylight. Yeah, you do that with your factory fresh OQO!
Next up, where will the production level 2B1 Children's Machine show up first? Argentina, Brazil, Libya, Nigeria, or Thailand?