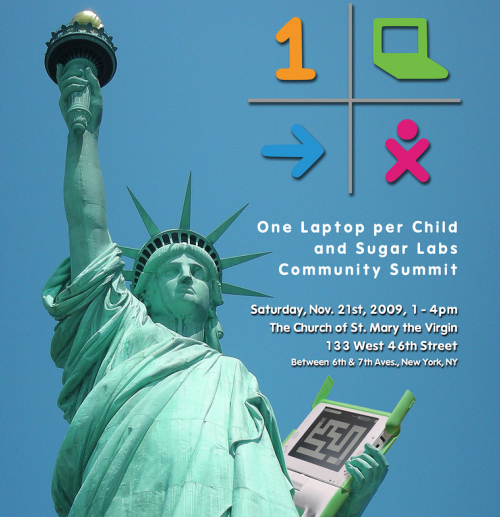 Its time for a One Laptop Per Child & Sugar Labs Community Summit in New York City. Key community members from OLPC, Sugar Labs, the OLPC Learning Club are converging in the Big Apple to re-catalyze the NYC-area community and touch off regular meetings again. Time, location and agenda details:
Saturday November 21; 1 - 4PM
The Church of St Mary the Virgin
3rd Floor Meeting Room, Mission House
133 West 46th Street (between 6th and 7th Avenues)
[ Google Map, Church web site ]
The formal presentation will include highlights of OLPC and Sugar Labs, like:

Please join us and spread the word if you're interested in impacting education worldwide. More information about the summit can be found on the wiki page. There is also a collection of promotional graphics, Meetup event listing and email list. So you have no excuse not to be there.