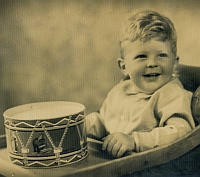 Martin Woodhouse's youth
Its Martin Woodhouse again, and according to the Sunday Times of London, I am an eccentric Englishman.
When the One Laptop Per Child project was announced I thought, as I am sure we all did, that Information Technology had come of age; that it had moved from being a bright teenager to an adulthood where wisdom and love are added to cleverness. That hasn't quite happened yet, but it can still do so.
The OLPC XO, for instance, needs similarly to move from mere brilliance -- it is, I repeat, brilliant in design, just as OLPC is gorgeous in kindliness and concept -- to maturity. It needs to do the job it is meant to serve: to educate the world's illiterate, and therefore unempowered, poor.
Now before designing anything, it's always wise to consider its purpose, sometimes very carefully indeed. We have set down that purpose, and we need, accordingly, to ask what it is that a person needs in order to move from illiteracy to education? (As, I remind you, each one of us has done while we were ourselves growing from infancy, through childhood, to being an adult person. We are just proposing to allow every person in the world the same opportunity; that is all.)
If we look at this carefully, we'll find that there is only one skill which we need to offer. It's that of being able to read, and nothing else. Notice that I use the word 'need', here, in the sense of being essential. Everything else, we can see, is optional. Writing, listening to sound, video recording, taking photographs -- everything else -- may be a convenience, even perhaps a great convenience, but it is not absolutely essential to everyone, as the ability to read is. A writer needs to be able to write, certainly, as an artist needs to draw or take photographs and a musician needs to make and to hear music; but everyone needs to be able to read, and to be provided with reading material.
What every child (and adult) in the world needs, therefore, is simply a means of having words, and pictures, presented upon a flat surface in front of his or her eyes. That is all it takes to go from illiteracy all the way to university-level education. And it is all, therefore, we need to give them. In other words, an e-book reader.
Plus, of course, a supply of e-books by the hundred or the thousand; the OLPC Alexandrian Library we have seen mentioned here now and again. The 'laptop' given to every child needs to be an e-book reader capable of accessing that library. Not a PC, though of course the laptop computer is a highly desirable, and entirely sensible, next step. I am by no means suggesting that we should forget about it, merely that we need (they need) a cheap, simple -- and above all low-powered -- book reader first.
This makes our design problems a great deal easier. A very great deal easier indeed, as we shall now see. Such an e-book reader can be constructed from the following components and at these roughly estimated costs, many of which are taken from elsewhere in this site:
$28 Screen. Thanks to to brilliant Mary Lou, we have a superb one with minuscule power consumption and low quoted OEM cost
$5 CPU Slow, cheap and again above all low in power consumption
$5 RAM system memory, about 32 MB at a guess
$5 Battery LiFePO4, suggested though not yet firm OEM cost
$7 Case with backlight, plus probably four keys, 'Yo-Yo' charger, some kind of USB-style socket for plugging in books, which are held on RAM sticks
$50 TOTAL guesstimated cost
NOTES:
We don't need a keyboard, just buttons for moving forward one, backward one, switching on/off and an 'Enter or 'Accept' key. We don't need more than minimal permanent memory storage; this will mainly be supplied as the e-books themselves. Nor do we need sound, Wi-Fi/Web access, video chips, cameras etc etc . . .
The operating system will be free (freeDOS will do nicely unless the lads and lasses want to write a VERY VERY SIMPLE ONE in Linux) and the e-book-reading software will be supplied with the e-books themselves, so we don't need an inbuilt user interface like Sugar, just a terribly easy way of choosing and loading a book.
So fifty dollars looks like being about okay. Have I forgotten anything? It's possible, but if so, I am sure that you will all let me know!
Now we get to the really nice bits. The machine will I suggest be called NOSH, standing for "NO SH*T fifty dollars is it baby" . No upgrades ever required, thank you. I realise how foreign -- even traumatic -- a concept this must be to anyone in the Wonderful World Of Computing -- but putting words and pictures on a screen is about the same now as it was when the computer monitor was invented and I don't personally foresee any changes needed? Price will thus only ever go down in real terms, not up.
On power consumption, thanks to Mary Lou's screen and somebody's --- I do aplogise but I do for the moment forget whose -- system for making the OS rapidly go to sleep and wake up again, I reckon we can probably get down to a mean of 0.1W overall, or maybe less? Think what this means in terms of string-pulling for the battery charger.
The books themselves will include text in a number of fonts, and pictures, all pages in colour and with a little animation here and there, nothing fancy. Since we won't be using Windows, let alone PDF files, my current estimate is terms of book size is a mean of 4Kb per page. So a plug-in 1Gb RAM stick ( cost, what, a dollar, sooner or later? ) will hold 250,000 illustrated pages, or say a thousand or so books?
That looks fairly Alexandrian to me. And also fairly cheap.
With cheers and love to all,
Martin Woodhouse