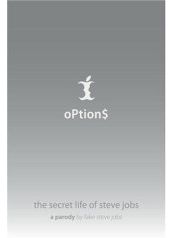 Recently, Fake Steve Jobs had a blistering commentary on One laptop Per Child. He encapsulated the reality of an entire year's worth of OLPC fantasy in 675 concise words of biting satire.
He started with over-the-top sarcasm and pointed out the major flaws of the OLPC leadership in developing the XO-1 laptop:
Frankly I'm shocked to see these guys having problems. I mean, a brand new hardware design, a new screen technology, a customized Linux operating system, a one-off user interface, and the customers are the poorest nations in the world, …and the whole project will be run by woolly academics who have never even worked in a real company let alone run one. What could possibly go wrong?
But FSJ saved his most stinging critique for the press corps that fawned all over Nicholas Negroponte and his band of merry men. The very people the public trusts to do the due diligence on new ideas and new initiatives.
To the reporters and journalists who cover technology, the ones who wrote fanboy odes to Negroponte's grandiose ideas, FSJ asks: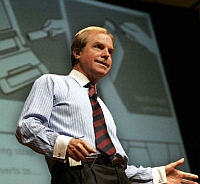 Dr. Negroponte's OLPC dream
Ever wonder why nobody, and I mean nobody, ever stopped to think about whether the whole thing could actually work? Or even to question how it was going to work? Did you notice that nobody looked at the business realities?

Did anyone even consider looking at Negroponte's disastrous track record and his utter lack of experience? Did anyone point out what a ridiculous waste of space the entire MIT Media Lab has been? Of course not.

Partly it's because no reporter wanted to pee on Negroponte's shoes and get branded as a meany and a kid-hater and a racist by the noisy freetards who backed this silly project.
FSJ goes on to disparage the average technology reporter as not understanding the business of deploying laptop technology. While I do not completely agree with him, technology reporters being a great sounding board for me to develop many of my OLPC theories and vet my XO stories, I do have to agree with his first point: no one really questioned Negroponte in 2006.
Well no one but me.
Do you know why I started OLPC News? Why I spent untold hours hunting down obscure back data, cultivating sources and co-writers, and spent waaaay too many nights typing away in mad frustration, using the /strike tag till my fingers bled?
Because few reporters, press organs, or voices of record were consistently reality-checking Nicholas Negroponte on his One Laptop Per Child dreams. No one would say that his implementation plan was "The Gods Must Be Crazy solution" or that his maintenance plan was "Humpy Dumpty on a Million Unit Scale" or questioned his miracle results paradigm:

And this may surprise those who think there was a OLPC News conspiracy theory, but I risked much by speaking out. I risked angering and annoying those who would help Geekcorps, a program I loved and directed until recently.
There were many who thought Negroponte's ideas, while over-the-top gave needed press attention and international exposure to ICT for development. Technology practitioners and NGO's who promote technology in the developing world and stood to gain from a financial boost around his idea of a cheap laptop solving the world's education problems.
But unlike the press corps and no matter if my actions harmed Geekcorps, I could not stand idly by and watch Nicholas Negroponte portray teachers as drunkards or say there was no need for after-sale support of computers. I would not let him declare technology, in of itself, would end worldwide poverty. I had to speak up.
So I did, and Fake Steve Jobs, in one short post, just explained the very reason behind my obsession, my drive, my need to celebrate yet correct Nicholas Negroponte's great One Laptop Per Child dream.
The idea is captivating, the technology clock-stopping hot, and yet the lack of a defined implementation strategy or realistic cost estimates threatens to create great waste and disillusionment with technology in the developing world.