Three weeks ago today, I announced the OLPC News Forum for XO laptop exploration to provide help and support for G1G1 donors to One Laptop Per Child.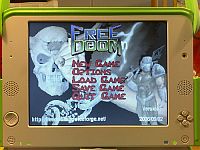 Doom on XO? The HowTo is here
My goal was quite modest - help those who Got One to:
learn and explore clock-stopping hot technology,
share their experience with others,
and organize local user groups.
I expected a few hundred people at most, the motivated geeks who supported OLPC from its inception. The
OLPC News Forum
has grown beyond all expectations!
As I type this, there are 990 topics with 7,701 posts by 1,189 members in just 21 days. That's an average of 340 posts per day on everything from XO laptop help to local user groups to promoting OLPC in schools to the Canadians who are still waiting for their XO's.
And with 51 new registrants every day, the Forum continues to grow and change. Just this week we added boards on music activities, the dual mode screen, and a NYC XO user group.
So what are you waiting for? Register today! You'll be glad you did.