I am of XO For All and over the next few posts, I will explain my initial enthusiasm for One Laptop Per Child, and why I have lost that enthusiasm and stopped updating XOforall.com
I became enthusiastic and optimistic with One Laptop Per Child and the XO Laptop headed by Nicholas Negroponte of MIT ever since I first heard of the project back in 2005. How could I not be? It had a noble goal, it was tangible, and it had some very bright people behind it.
It also appealed to me in several very particular and important ways. First off, it was an education project. I have always felt strongly about education, and I believe it to be essential for ending poverty and social injustice and indeed, for freedom itself. In fact, this is as much a tool of emancipation as one of education. It also involved technology, a whole new platform in fact, with an original Graphical User Interface called Sugar.
Now I love technology, especially liberating ones, especially for kids (the next generation of humanity), and especially with new GUIs. I love the lost science-art called interface design, and this seems to progress (and sometimes seemingly regress) so slowly that it is wonderful when something new comes along-- not to mention it is based on Linux and wholesomely Open Source. It is not difficult to see why one would be so enthusiastic about this project from the get-go.
No-Distribution Models
However, even from the beginning I saw some potential pitfalls. I tried to see them as obstacles to be overcome, but they were troubling. First and foremost, the entire project relied on the wisdom and capital of the very governments, which had failed their people.
To be fair, not all social and economical follies can be blamed on governments, but often the ways in which governments carry out (or neglect) their duties are directly or indirectly responsible for the current state of affairs in a nation. So going up to corrupt and/or broke governments and asking them to pay to change the status-quo always seemed foolhardy to me at best. OLPC needed to appeal directly to the people, not governments, in most cases.
Curiously, the countries where OLPC actually had a good chance of achieving their goal by appealing to governments directly, is where they did not even try. Negroponte had this idea that developed countries should not get first dibbs on XO laptops (or maybe even at all). I found this attitude very perplexing. It seems OLPC not only wanted to change the world (which is good), but simply rejected the processes by which the world works today (which is bad).
The idea seems to be that the XO should spread top-down on a nation-level (from the governments in developing nations to their people), but then down-top on a world-wide level (from developing nations to developed nations). This makes no sense at all, and it not how the world works (nor how it should), especially when it comes to technology.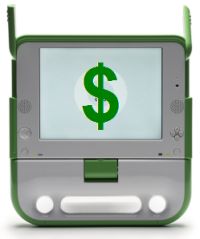 It's as if there was some kind of bias against developed countries. The idea that the XO was not for the U.S.A. or any other developed country was one I never subscribed to. There are lots of poor areas in developed countries which would benefit from this project, and perhaps more importantly, there are lots of economically prosperous and rich areas in those countries which could both benefit from the XO and financially support the project as well.
That is what stimulated me to launch XO for All. I felt it needed to be said. I cannot absolutely say that it had nothing to do for my own personal want of an XO, however it was the overall success of the project, which I was primarily concerned with. By having rich countries buying XO laptops, they would be both gaining from the project, and funding it for poorer countries.
Also, having rich nations adopt these machines would make their adoption in poorer areas that much less difficult. Touting an unproven educational laptop in a poor country is a lot harder than selling a proven solution from a developed nation. One can be idealistic, and pragmatic, too. The XO should be for everybody and should not be limited to certain markets but be allowed to propagate everywhere -- especially where there is money to be had.
To be fair, OLPC has made XO laptops available in the U.S. and worldwide via the Give 1 Get 1 program, but it is very limited and certainly not the kind of regular availability needed.
On a side note, I never liked the "$100 laptop" moniker, not only because it seemed unlikely from the start, but because it emphasized the cost of the laptop instead of its educational value and noble purpose. I was not alone in this opinion, and apparently not far from the truth, as OLPC finally came around and dropped this unfortunate moniker.