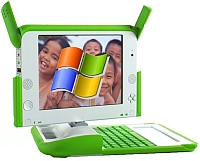 First, it would show that Windows is, well, an operating system.*
For some people, it's even the one they prefer. But it's positively a good thing for people to realize that (on x86 machines, certainly) it's the indefinite article that applies.
I'm glad for the same reason to see Macs running Windows (via Bootcamp), or Rockbox replacing the stock firmware on Archos machines -- it helps disabuse people of the notion that for a given Machine X, only Operating System Q can be used. Better to let people compare different hardware on the same device, so they can see just what combination of features pleases them most.
In the world of educational software, one of those features is certainly going to be shareability and other aspects of software Freedom, and here, Linux+Sugar beats Windows XP all to pieces.
But there's another contrast, too: Unless Microsoft does a better job of it than I expect, Sugar would be the obvious interface of choice for XO users. The collaborative, interlinked applications, the OS-level energy saving features, and the child-friendly aesthetic all count in its favor.
Unless MS does some quick simplifying and integrating equivalent programs, I don't think they're going to make Windows XP anything like as attractive for the OLPC's target user.
Programs that run on XP had better be lightweight, too, or no one will wait around for the progress bars to finish marching -- and Microsoft won't get to rewrite most of the apps that run on Windows to respect the XO's pointedly finite capabilities, because they're closed source and belong to someone else. And if they do manage to slim down even a handful of the included apps, well, Hey! So much the better. Lots of people use Windows, and they might eventually get some benefit from this effort.
One day, Microsoft could well be the world's largest producer of free, open source software. (I'm allowed to dream.) They employ a huge chunk of the world's smartest people, along with the occasional placebo, and a few dunderheads. But no one hired at MS now will have escaped the benefits of open source / Free software, and a lot of them have (say) Linux machines at home if not at work.
Any time a day job at Microsoft means contributing too (even backhandedly) a project with a major connection to open source and Free software, it provides at the very least another spur for the open source contributors to excel. OLPC should welcome the interest of MS as a company, and the 40-full time engineers working to squeeze Windows onto it.
They've certainly one-upped Microsoft in creating such a functional, integrated machine with a small team and short schedule.
* Pedants with CS degrees who would like to argue about just what makes an operating system are free to do so, while I don my custom silicone earplugs :)
Other opinions on the matter