Currently the Sugar/OLPC/XO development community is discussing what to add, change or improve in the next major release. Printing is a topic that is currently under discussion. This discussion occurs on the OLPC development list and related lists. These lists are open, and any interested party can join.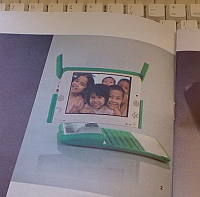 WANTED: printer support.
Mr. Plosonka has stated his opinion that the XO not printing is a feature on these lists. Apparently, he feels the need to expose his opinions to a wider audience here.
I strongly feel that printing is a necessary part of a fully functional XO experience. So here's my rebuttal.
Philosophical/Religious
His first, and major, point is one of sustainability. "We cannot replicate our US lifestyle at a global level" and states that "to lower our level of misuse of resources becomes a badge of honor, and thus a no-printer policy is something we can all be proud of". This is the worst kind of cultural imperialism. This is telling the users of the XO that they should do what we say -- and tell them to do, not what we do. The OLPC experience should be empowering and open. Include the ability to do everything, and let the users decide what is or isn't of value to them.
Practical
Historically, right after persistent mass storage, the next major functionality that computers added was printing. The ability to produce results that can easily be shared and reproduced is a critical part of the computing experience. Showing around one's work on the XO is fine, but you can't guarantee that your XO, or some other repository that can be accessed will be available when you want to do so.
The XO is being deployed in environments that range from being impractical or inhospitable to printers to cities in the developed world. There should be no presumption of a one size fits all solution.
Technical
The pieces are there. The XO can print. The issues under discussion revolve around how best to do it, and what it costs in resources on the XO.
CUPS provides a mechanism for managing and using printers on the XO. It has been successfully installed and used since very early in the XO's life. See Tony Pearson's write up here. This allows easy printing to shared, server based printers, as printing with CUPS just looks for the server to provide printing functionality.
Mr. Plosonka says "Yet all of those can be dealt with at the server-level". Well here it is.
The next step is the ability to print from a individual XO. Adding software such as Ghostscript to the XO can provide that. CUPS sees the local printer as another resource just as it would a printer on a server.
The final pieces of the picture are what would it take on the XO to allow the user to select a printer and print. Work has been done on this front. See [[Printing_Design]] and this picture which is a screen shot of actual printer discovery.
Conclusion
Simple, user accessible, printing should be added to the XO as soon as possible.
Users should be free to print or not, as their needs and circumstances dictate. In extreme cases, where the on XO use of resources to support printing is a critical item, or where printing is not supported, users should be able to remove printing support.
Robert Myers is an OLPC community volunteer.