When I present the XO to people, I indicate that the lack of printer support is a feature, not a bug.
The issue I see is one of sustainability. We cannot replicate our US lifestyle at a global level, there is just so much that Gaia can take. What we can afford here, as the biggest consumers of resources in the world, at an expense to the whole world, we cannot consider as the parameter to reproduce elsewhere.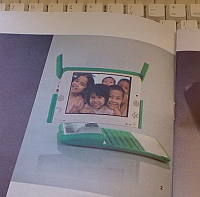 Printers needed?
You can agree with this because you care for humanity, or if you don't, you can see at it this way: if other people start consuming as much as we do, we won't be able to pillage their resources anymore, so we will end up having to tighten up our belts anyway, capice?
It has been pointed out rightfully that this might be part of a tendency to set our standards to a lower denominator.
To lower standards to limit what a kid can learn is a crime crying to the heavens, but when it comes to being aware of what resources we have available to spend, how we should spend them, to lower our level of misuse of resources becomes a badge of honor, and thus a no-printer policy is something we can all be proud of. It simply behoves a better attitude towards the environment.
The OLPC project, and the XO in particular make quite a point on looking for solutions that are energy efficient, resource-efficient, "green", yes, the whole project has adopted that color as its banner. Even the battery is said to be biodegradable, etc, etc. Now, is this just a pandering of contemporary post-modern sensibilities to be successful at fund-raising? Is it to make it more palatable to teachers, who, the world over, say they have become defenders of the environment?
Besides, just think on the TCO/ROI when you have to add printer, paper, ink, energy...
Now, I can feel the pain of those who are used at printing. Where I got my teacher degrees from, nothing is "real" unless it is on paper. It is going to be a mighty battle of wits to get those teachers to change their ways, to accept that homework done on the XO is valid, so kids that currently play music on their XOs while they do their homework on paper can actually use the thing for something more meaningful than a $200 MP3 player.
It will also require some software work, so that it is easy and pleasant for the teacher to do grading using their own XOs.
There are good reasons to have a printer. Formal grade cards. Real publications. Sharing and preserving on zero-access-time media. Yet all of those can be dealt with at the server-level, without the limitations that adding another feature half-way would bring, because setting up good auto-detection features and the like is quite something, especially since so many printers simply are not Linux-friendly. Anyway, it is available already in some form by using a USB stick or SD card, but that could be improved on.
Ultimately, sure, why not. We already have some sort of Windows to fit that house, so printers would be fine as well. Currently the Sugar and the Devel lists are debating on how to add such printer support to the XO.
All in all I think that Activities, Sugar, the XO should keep the mindset of being environment-friendly, and encourage if at all possible options that are conducive to walking our talk. Printing by uploading to a server that then does the dirty work is a practical option, of course as an exception on normal use of the XO.
Disclosure: from where I sit at home I see 5 printers, only one store-bought, 5 years ago. My main printer is a double-side HP 6122, that prints 4 pages per sheet of paper using the brochure option under Open Office. I recharge my own ink. We still use paper inherited from a company that changed its logo.