I was checking out the forums of some recently added items to the On-Disk.com catalog when I found a really interesting post about recent updates to Enlightenment .17 (aka E17). I had been following development of E17 for several years, and it has replaced other desktop environments numerous times on my PC, but I always ended up going back to something else simply because there were just too many things missing.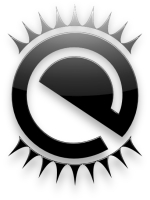 E17 has been in development for so long because it is written completely from the ground up. It has it's own libraries and does not depend upon QT or GTK toolkits, even if many of the applications we use do. E17 also provides an excellent looking desktop while at the same time having very low system requirements....meaning it's fast, light, and beautiful all at the same time.
To make things even more intriguing, I found that there is an excellent repository maintained for Debian which Xtra Ordinary is based upon. I just had to take a look. I haven't used E17 for a couple of years so at this point I was dying to see how it had progressed.
I began by adding the repository to my desktop PC and installing everything. I then logged out and back in, this time selecting Enlightenment session. From here it does a quick "first run" setup allowing me to select the menu I wanted to use, etc. It took about 10 seconds to be impressed with how well it had integrated the desktop applications, , desktop icons, and most importantly (with a plugin) the system administration and preference settings.
Testing with external media (a USB Flash Drive), an easy to access icon appears on the desktop to allow access to plugged in devices, and a right click allows ejecting it safely...this was huge because I do a lot (understatement) of work with external and live media. As I write this, E17 is still on my desktop. Since installing it I haven't used anything else.
So began my testing E17 on my XO...and it was sweet! (just, my opinion). Over the next couple of days I rebuilt Xtra Ordinary from the ground up as well, tested several applications, and tested and configured E17. This would become the new default desktop for Xtra Ordinary 2010.
I then turned back to Xtra Ordinary 2009...I had a idea I needed to try. After spending some time researching, I was able to replace the file manager used by gnome with a much lighter option (pcmanfm), and the window manager with the lighter, and much more standard compliant Openbox.
This gave a very snappy Gnome desktop. It stall takes more system resources to run than the other Xtra Ordinary desktops, but it's just as responsive. In fact, I have never used any implementation of Gnome that is this responsive.
OK, Now I had both sides of the coin...a great default desktop that anyone can use and enjoy, and a very snappy Gnome desktop for the Gnome/Linux fans.
From here it was just a matter of selecting the software and getting it all squared away, which was spread out over a couple of weeks.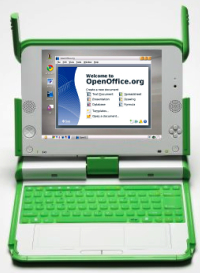 The Applications:
The first thing we need to take into consideration when selecting applications is the abilities, or in this case lack of abilities of the XO-1 laptop. no matter how much we would like it to be a multimedia playing, high-end graphical game playing monster it's just not going to happen...we are limited with a 430 Mhz processor (430.931 to be exact) with 128KB cache, and even more limiting 256MB of memory.
Taking this into consideration, don't expect the XO-1 to do things which require a lot of memory or a fast processor, like video conferencing , or play anything except the simplest of Flash (normally adverts are not a problem, but videos and online games are hit-and-miss at best). A big reason for the inclusion of the Google browser, beyond its speed, is the ability to play youtube videos without using Flash with an extension.
If you are primarily interested in using it for browsing, email, instant messaging, Ebook reading, playing non graphic accelerated games, etc, then the XO-1 can be quite adequate.
The main things people will notice with the 2010 version -vs- the 2009 are:
Software Changes: Skype was replaced by a MSN messenger, Firefox replaced by the new Google Chrome Browser, the office suite (OpenOffice.org) updated to the latest 3.1.1, Twitux to allow using twitter without even opening a browser, and GRAMPS family tree/genealogy software, and the Calabre Ebook library manager and Ebook viewer. All software was taken from stable Debian 5.04 repositories, which allows for all software and system applications to be updated (when updates become available) using the Update Manager, and/or Synaptic package manager.
New Desktops: Of course E17 is a complete change from the XLDE based desktop in Xrta Ordinary 2009, but the inclusion of a "faster" Gnome desktop environment is also very nice.
Desktop Integration: Anyone who uses the Gnome and E17 desktops will notice that the gnome settings are also used under E17. Being able to use the Gnome Settings Manager under E17 is really nice. Other desktops and window managers are unable to do this because of session manager conflicts.
Hardware Integration: Not only do the screen brightness keys on the XO function, the volume keys control the speaker volume, and an added touch (which hasn't been mentioned yet) is the ability to change the screen orientation. Finding the screen rotation function a bit clunky, pressing either "alt" key along with any of the directional arrow keys (up, down, left, right) will immediately orient the screen to be viewed from that side. And of course the magnifying glass in the upper left corner of the keyboard brings up the "search for files" dialog to make searching for stuff easier.
Official Website: As we are beginning to update our parent website, which will also host information for the various custom works we do, a page and forum for Xtra Ordinary have been setup. It currently contains information, screenshots, source code, and download information for Xtra Ordinary.
License Acceptance before Acquisition: Because Xtra Ordinary 2010 contains software which requires the reading and acceptance of License agreements prior to using it, you will be required to accept the licenses before obtaining it. This "License acceptance before acquisition" model allows the inclusion of software we would be unable to include otherwise. It is also the model used by On-Disk.com for the popular "POSTed Editions" of Ubuntu, Kubuntu, Xubuntu, and PCLinuxOS.
In my personal opinion, and I do use my XO running Xtra Ordinary every day, 2010 adds a bit of "Fun" to the increased functionality. How much fun? well, my next endeavor is doing more gaming on the XO! - for a preview install dosbox or zsnes (both can be installed with the package manager, synaptic, on both the 2009 and 2010 versions of Xtra Ordinary). Then download some DOS games or SNES ROMS (Just google "DOS games" or "SNES ROMS" and have fun)
If anyone has any questions please contact me, or comment on this article and I'll do my best to answer as I have time. Long live the XO, and Happy New Year!
Xtra Ordinary 2010 Links:
Get an Xtra Ordinary 2010 SD Card
Xrta Ordinary 2010 Upgrade from 2009
Support Forum
Screenshots
System Requirements
System info and Source Code
Download Xtra Ordinary
Todd Robinson is the Systems Development Engineer for Webpath Technologies and On-Disk.com which is a champion for Open Source software.