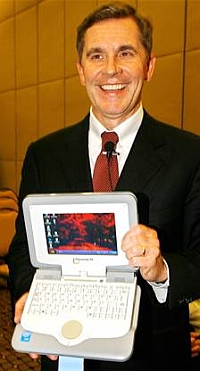 John Davies - Intel
I just now saw the headline:
"Intel to help Bangladesh bridge digital divide."
Well, that would be nice, but it turns out that the headline is essentially false.
Intel is providing (Does that mean selling or giving? I think selling.) 1,000 computers to Bangladesh through its Intel World Ahead Programme, and also some Internet connectivity. But this is a trial, not a major contribution.
Intel's World Ahead Programme General Manager John E. Davies, who is spearheading the assignment, is currently visiting the country to give the programme a kick-start.

"Understanding a country takes six to 12 months. But when it gets going, the programme speeds up with the help of right partners to implement it," Davies said.
That's the funniest thing I have ever heard an Intel employee say. A lifetime isn't long enough to understand any country. It's all right, though, I understand that he didn't mean what he said.
He was talking about the time to understand a business opportunity in the conventional manner, in which you offer to apply the technology you have at whatever it costs in the developed countries to problems you know nothing about. Unlike, say, OLPC's approach.
OLPC started with user requirements, such as absolute minimum power for areas without regular electricity, maximum durability for little children, greenness, and support for collaboration. The result is a record low cost hardware design appropriate for conditions in the countries most concerned, and a new kind of educational software.
The OLPC XO incorporates what Alan Kay and others have been demonstrating for decades about the power that computers can have in education, if we are willing to permit it.
Intel is also discussing with the education ministry about accommodating its education content in the curriculum and how to train the teachers for the World Ahead Programme.
Ivan Krstić
reported at PyCon 2008
, the recently concluded Python programming conference, that in Uruguay the children got the idea of the XO immediately, and the teachers within days. The government might have provided a lesson plan in biology with a topic on a specific organ and two paragraphs of information.
The teachers showed the children how to get on the Internet to look for more information, and then teach each other about what they found. Forget content and curriculum! We can teach! Who needs training for this?
Mothers of students got it next, apparently just from the joy on their children's faces, and the fathers were hardest to convince. They wanted the children to work in the fields from after school to dark. But the children were able to demonstrate, on the laptops, just what they were learning that had been impossible before.
On seeing that the children are actually learning in school, and can already look up things that will improve local farming methods and increase family incomes, the fathers have joined in too.
Davies noted that the cost of Internet connection in Bangladesh is incredibly high compared to the rest of the world. This is why Intel is looking for other ways to provide education contents in the most cost effective way.
Perhaps we should be discussing ways to bring the cost of service down. Like reforming the Bangladesh communications sector, which is still dominated by incompetent and avaricious state corporations. (When the first fiber optic cable landed in Nigeria, the government had no plan for extending service beyond the telephone center at the landing point. In Bangladesh, when the first cable landed, there was no center at the landing point.)
"For instance, there could be local caching service. Contents like math or science may be kept in the local server so that students can access them without any Internet connection," he said.
Right. Something like
OLPC XS School Servers
, even.
Intel has signed agreements with Grameen Solutions and Bangladesh Telecentre Network to set up telecentres that will offer an array of services to the public. Intel will be offering a model to help the country's goal of setting up 40,000 such centres across the country by 2011.
Mary Lou Jepsen's Pixel Qi $75 laptop brings that down to $2.7 billion plus other expenses to start, possibly in 2009. If children get a replacement every four years, then the cost after startup would be around $700 million annually. Does Bangladesh have this kind of money? Let's see. GNI per capita (US$), 2006: 480. Nope.
I wonder how much 40,000 telecenters will cost. A few million, maybe? And how much effect they would have? Well, some, to be sure. Would it be a thousandth as much as providing computers to everybody? Dunno.
Well, I don't have the actual answer to the problem. Apparently we need some new thinking on global education funding. Like maybe actually providing 0.7% of GDP, as the US and many other countries have been promising for decades, but never took seriously. Of course that would require public political will, which has been in short supply.
I wonder if anybody would be interested in applying any political will that they have lying around. It's just weird how the application of political will by a few people in the right circumstances sometimes creates mass political will. Maybe it was already there, and we just had to call it out from the woodwork. Is it worth a try?