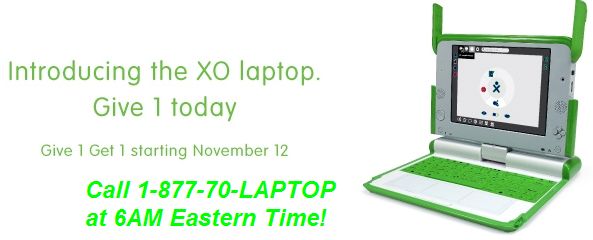 Did you pre-register for Give One Get One like I did? If so, you are
receiving an OLPC email
today announcing that:
Starting Monday, November 12 at 6:00am EST, you will be able to donate one XO laptop to a child in the developing world and also receive a laptop for the child in your life, by visiting www.laptopgiving.org or calling toll-free 1-877-70-LAPTOP.
Now we know
exactly when G1G1 will be starting
, and its even earlier than OLPC telemarketers predicted, which is great. Now we can all have a pre-work XO-1 buying orgy and start the day with a smile for two reasons.
First, T-Mobile's HotSpot commitment was detailed in the email, and it makes an XO-1 buy worthy just for the connectivity:
Additionally, T-Mobile is offering donors one year of complimentary access to T-Mobile HotSpot locations throughout the United States, which can be used from any Wi-Fi-capable device, including the XO laptop.
Better yet, the content available on OLPC just got better too. In addition to being a
Library of Alexandria
, the XO-1 computer is now a gateway to a whole other level of social learning with
OLPC Sim City
.
Wait, let me be clear, Electronic Arts has followed through on actually donating the original SimCity to each computer in the One Laptop per Child (OLPC) initiative, which the company claims is the first time a major video game publisher has gifted a game to the world. If so, this is yet another great achievement of Nicholas Negroponte's dream.
May a Monday sell-out of G1G1 be the next.