In an unsurprising move, Intel has now committed to go toe-to-toe with One Laptop One Child's production schedule. Reuters is reporting that:
Intel Vice President John Davies said in an interview that his company has no immediate plan to crank up production. But he said that could change if Negroponte's effort shows strong demand for such devices.

"It's going to be driven by the market -- at the rate at which the market can afford and wants to absorb it," said Intel Vice President John Davies. "We can speed this program up -- probably faster than the market can absorb it."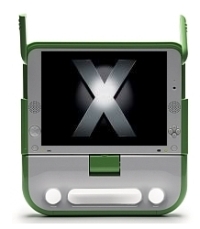 But buried in the article are two interesting teases. First, could this comment be the start of an
XO operating system
from Apple?
Negroponte said in the interview the foundation is "open to" running Apple Inc.'s OS X Macintosh operating system on the XO laptop. An Apple spokesperson declined comment on its plans for the device.
OLPC has stated that it's
emphatically open platform
- open to any operating system, even Windows, replacing its Sugar/Linux combo if a
participating country
wants to make the switch. And I don't know about you, but if I had to choose, I'd take Apple's OSX over Microsoft's Windows XP/Vista any day.
What is the most intriguing is a possible OLPC XO subsidy by Mexican billionaire Carlos Slim. He has already promised to match donations for educational projects in Mexico:
Slim, who owns a telecoms and retail empire and has a fortune estimated at over $US30 billion ($39 billion), will meet all contributions dollar for dollar, his spokesman and aide Arturo Elias Ayub said.

"We want to offer Mexican or foreign foundations that we will match any amount they invest in social work in Mexico," Elias Ayub told Reuters. It was unclear how much Slim's donations might ultimately total.
And now Nicholas Negroponte says Slim has recently agreed to support the project in Latin America. Now no one has said how much support Slim might give, but I'll bet you a Children's Machine that he might just offer a $75 subsidy per laptop.
Why? I'll let you do the math.