Since the beginning, One Laptop Per Child has actively discouraged both individual donations and individual sponsorship of OLPC Children's Machine XO laptops. From the OLPC Wiki where they say that only governments can buy laptops, and only then in units of 1 million, to Nicholas Negroponte's dismissal of Mike Liveright PledgeBank 2 for 1 pledge:
"This site had nothing to do with OLPC, was set up without our knowledge and was not a good idea. Well meaning people can create backfires."
In fact, while Negroponte promised
eBay sales
there still isn't a way to directly link any payment with a specific OLPC XO delivery.
That is unless you believe Changing The Present, a website run by ImportantGifts, Inc, which professes to be an organization that allows you to donate to multiple charities through their online catalog of charitable gift ideas. Of unique interest is their Equip Children: One Laptop Per Child page.
There, Changing The Present claims that your $160 dollar donation will:
go to underwrite the cost of getting laptops to groups of children throughout the developing world. With your support, we will distribute millions of the laptops beginning in 2007 -- in Africa, Asia, Latin America and the Middle East. 2B1's goal is to make learning a seamless part of the lives of children, intertwined with living, play and family life.

The One Laptop Per Child laptop is a flexible, networkable tool through which children explore, read, connect and learn. Using these laptops, with rechargeable batteries powered by a hand-crank, groups of as many as 60 children or more can connect with each other over a mesh network and pull lessons from a server packed with 200 gigabytes of instructional content. Children will be able to learn more quickly and effectively.
Following the link on their page to "
OLPC Foundation
", we find that:
The OLPC Foundation works to advance this initiative by raising money to purchase and distribute learning-driven laptops to children.

The OLPC Foundation
600 Lexington Ave, 9th Floor
New York, NY 10022
Phone : (212) 111-1111
Url : www.OLPCFoundation.org
EIN : 20-5471780
Now as you can tell, that phone number is fake but the link leads to a GoDaddy host filler page for a domain registered by Michail Bletsas of OLPC. There isn't anything about "OLPC Foundation" on the OLPC Wiki, but the
last we heard
the OLPC money raiser was called 2B1, not OLPC: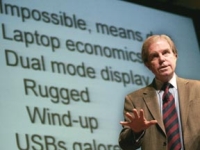 Nick: 2B1 or OLPC Foundation?
The 2B1 Foundation was re-launched this week. The name (conceived by Dimitri Negroponte about ten years ago) was used for a New York State 501(c)3 that was active until about 1999. Seymour Papert, Nicholas Negroponte and Dimitri were involved until it went dormant, serving only as a private foundation and modest venue to fund Cambodian Schools.

In its new form, technically called 2B1 Worldwide, it will be a Delaware public foundation, initially headed by Ashton Hawkins, based in New York City. It will become the entity to which charitable deductions, large and small, can be made.
So what might this Changing The Present site be? Would this be the Negroponte-endorsed retail donation mechanism for One Laptop Per Child, a somewhat inefficient and diluting channel when eBay, OLPC Wiki, and PayPal beckon? Might Nicholas Negroponte have abandoned 2B1 for OLPC as a foundation name like he tossed 2B1 for XO on the Children's Machine?
Or is Changing The Present the first of many organizations that will ask for donations, claiming to channel your largess into laptops for the developing world, but really just enriching themselves on OLPC hype?