Do you have an opinion on revolutionizing education in the developing world, using OLPC XO technology? Might you enjoy a good debate about One Laptop Per Child with Walter Bender, Ethan Zuckerman and I? Then listen in tonight at 7pm Eastern Time to Christopher Lydon's Radio Open Source: One Laptop Per Child?
There, you can hear the whole OLPC XO love-worry spectrum: who is positive or negative, or even schizophrenic about Children's Machine XO's.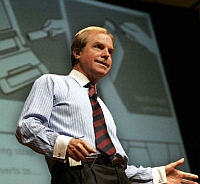 Nicholas Negroponte of OLPC
But no matter your stance, we can all agree that Nicholas Negroponte has helped resurrect technology as a form of international development from its post-dot.com, dot.bomb malaise.
Now the debate is not if information and communication technologies (ICT) can increase the development of poor countries but how. For this, I thank and respect Dr. Negroponte.
Or as Steve Song, manager of Africa programs at International Development Research Centre, says in Fred J. Aun's "OLPC Orders Reach One Million Milestone" article for TechNewsWorld:
Ironically, all the debate about the project's pros and cons has actually done quite a bit to draw attention to the problem, said Song. "It has stimulated the private sector and there is a race to produce low-cost PCs for developing countries," he noted.

"It's also stimulated the debate about what is the meaning of introducing [personal computers] into the classrooms of developing countries. Is that the best thing you can do? The OLPC has become a lightning rod for these kinds of debates."
So listen tonight to our debate on
Radio Open Source: One Laptop Per Child?
and let us know your opinion on the Children's Machine XO and its role in education via this wonderful blogging forum:
OLPC News
.