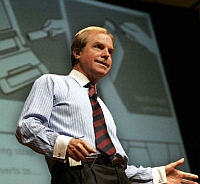 What will Negroponte say now?
Now that an Intel XO-2 is dead, what do you think will be Nicholas Negroponte's Industry Insider address at International CES?
I think his speech on the role of technology in economic development could still be shocking - he should announce that OLPC has achieved the mythical "$100 laptop" price point.
How? First, OLPC just announced that G1G1 raised $35 million dollars with the sale of 162,000 X0 laptops - half (81,000) destined for Haiti, Rwanda, Cambodia, Mongolia, Afghanistan.
Then note who is speaking with Negroponte, His Excellency Paul Kagame, President of the Republic of Rwanda. And now let's put two and two together to get what is before us.
If Rwanda agrees to buy 50,000 laptops at $200 each, and OLPC donates 50,000 laptops to Rwanda for free, Rwandan children will get 100,000 XO-1's for $100 each with brilliant marketing for everyone involved!
My prediction on the headlines:
OLPC Finally Delivers $100 Laptops to Rwanda
Rwanda President Gets Best Laptop Price for His People
Now what's yours?