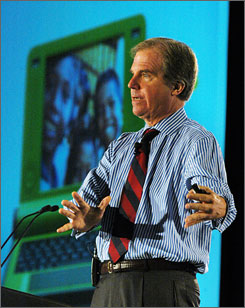 During a short break on the final day of the "
Digital World Africa 2006 Conference
", Nicholas Negroponte took the time to speak to Nigeria's Daily Vanguard newspaper. As well as promising that Nigeria will receive laptops first, Mr Negroponte makes an astonishing statement that
criticising OLPC is like criticising the church
:
[Q.] We understand that Bill Gates and some others in this business have criticized this initiative as untenable. What is your response to this?

[A.] I don't respond to such criticism. Because criticising this project is like criticising the church, or the Red Cross.
Is he saying that criticising OLPC is as
easy
as criticising the church? Does he mean that those who criticise OLPC are heretics? Or could he be suggesting that OLPC be allowed to do what it does without listening to anyone else? If it is the latter, this is disturbing; criticism, and the ability to respond to it, are tenets at the very heart of learning. To ignore what others have to say about your work appears to contradict the very learning skills OLPC advocate in their mission to help a billion of the world's children.
We recently covered Walter Bender's presentation at Ars Electronica's "Simplicity Symposium". In it, Walter describes how the laptop will utilise multi-user "activities" as opposed to "standard" (non-interactive) programmes. He explains that the laptops' ebook content will be an editable wiki. He goes on to say that users will have the ability to invite their peers to participate in what ever activity they are currently undertaking. One of the assignable roles is that of critic.
Perhaps the OLPC Chairman should accept criticism as readily as children who use his laptop will have to.