The One Laptop per Child program is a nonprofit, philanthropic organization, so how can Intel, a 500-pound gorilla, compete against a philanthropic project like OLPC? This competition would barely be newsworthy if OLPC was a for-profit company... competition is just a standard part of doing business in the corporate world. As I said in Part 1 of my series exploring the ongoing "battle" between Nicholas Negroponte's OLPC laptop project and Intel's Classmate PC, my philosophy (shared with many Intel execs) was to embrace OLPC and win them over, and to not trash them in the press, especially given OLPC's philanthropic mission.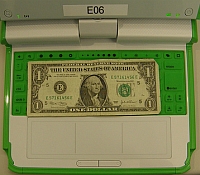 Should OLPC be a for-profit?
This is all obvious. The real point I want to make is that Negroponte (whom I will refer to as NN for brevity's sake) should have set his project up as a for-profit company, NOT a social enterprise. Here's what NN told the UK Times:
"It was probably the best decision we ever made," he says, "but we came this close to not doing it. I was advised by absolutely everybody to make it a profit-making entity so we could make lots of money and then give it away... But the non-profit decision was important because it provided clarity of purpose - first, a head of state will talk to you because it's about children and learning and not profit and, secondly, the best people will work for you for zero salary."
Granted, getting Kofi Anan, UN Secretary General at the time, to endorse the project might not have happened if it were a for-profit company, and possibly other world leaders might have shied away. But I think NN could have explained away OLPC's for-profit nature if he kept it a private company and was open about only re-investing profits for new innovations, market expansion, and talent retention.
You can have a for-profit company be all "about children and learning" as part of your mission. And NN's last comment: "the best people will work for you for zero salary" is absolutely unrealistic. Yeah, maybe he could get a few talented, independently wealthy individuals on board, but for how long? Look where the early "best people" are now. For example, Mary Lou Jepsen, the talented designer of the XO laptop screen, has spun off to create her own company, Pixel Qi.
So, how would it help the OLPC project if it was a for-profit business?
A Business Mindset - Building a successful, growing, sustainable, and scalable technology business requires many things, but the mindset of its leaders, and thus the entire approach to running a business, is fundamentally different from running a for-profit vs. nonprofit business. If OLPC started from the outset as a business that needed to make money vs. depend on donations or subsidies from third parties, all aspects of how NN would have run this business would be different, from the people he hires to the business plan he drafts. Do you know any nonprofit that sells 100 million units of anything?
A Vibrant Ecosystem - Building a computer requires bringing together scores of separate entities, from hardware, software, content, service and support, supply chain, delivery channels, and more. Few of these companies, if any, are nonprofit. I would argue that the ecosystem that gets created around the XO laptop would be even more vibrant and innovative, and the amount of investment by all involved would increase far more significantly as sales grow, if OLPC were a for-profit business.
A Competitive Environment - Competition is the essence of what makes products and companies successful. It keeps you on your toes. It keeps you innovating. It makes you focus even more on the customer. I think everybody would argue, for example, that Microsoft's Windows and Office products would be vastly improved and more affordable if they had serious competition.
As a for-profit company, OLPC would benefit from a business mindset, a vibrant and healthy ecosystem, and a competitive environment that would benefit customers and create a real market leader.
The author, Mark Beckford, is currently on a self-funded sabbatical after 11 years with Intel and a 3 year assignment in China, where he was co-General Manager for Intel's Emerging Markets Platforms Group (the group responsible for the Classmate PC) and was also the architect for Intel's "World Ahead" program. You can find his blog at disruptiveleadership.com where you can also find the first (on "Ego") and last part (on "Customer Engagement") of his 3-part series exploring the ongoing "battle" between Nicholas Negroponte's OLPC laptop project and Intel's Classmate PC.