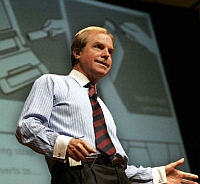 Nicholas Negroponte of OLPC
It is no secret that the One Laptop Per Child's underlying and motivating educational philosophy is Constructionism, best captured by this
Nicholas Negroponte quote
:
"...for me, education doesn't mean school and it doesn't mean teaching. To me what education means is the passion for learning. If I could build a world where kids are more passionate about learning and have a bigger slice of their day to engage in it, that to me is the solution."
It seems to me, that this posture represents an educational tactic, not a comprehensive strategy. A passion for learning what, Professor Negroponte? Isn't the content of education at least as important as the form of engagement? Does education describe the process which results in higher scores on standardized tests and prepares students for the workforce, or is it about something more.
I am involved in a community that is exploring these issues, best surmised by the question "What Educates"? I recently heard the educational theorist Ernest Washington make the case that education is about teaching morality, but not in the traditional fundamentalist sense. He meant that at its core, education is about cultivating emotions and emotional awareness. Providing students with the emotional vocabulary so they can achieve greater self-awareness and self-control. This sentiment is echoed in Taylor Mali's poem "What Do Teachers Make?"
I realized that
:
"If logo has a failing, its that it does not provide the necessary scaffolding for teachers other than Papert to effectively teach with it. I have been exposed to logo in the past, but never really understood its appeal until Seymour started turtling."
In other words, in the hands of a master teacher, Logo came to life and sparked the passion that Negroponte conjures. But it is not evident that this inspiration is intrinsic to the technological environment. On the contrary, when I was taught Logo in elementary school it was introduced in a manner that failed to spark interest, never mind passion.
Clearly the educational goals of a particular community will be localized, and it is not the task of the OLPC to impose particular content goals. However, for the OLPC program to succeed countries need to be articulating visions, developing curricula, and training teachers to implement these plans. OLPC does not seem to be supportive of the role of Teachers in the education and this posture is very disconcerting.
The current OLPC Leadership is like the Stradivari family - an incredibly gifted group of instrument makers, but they are not world class musicians. They need to get their instrument into the hands of the world's best educators and media makers so they can begin to explore the affordances of this particular platform.